Piece of Apple close to smashing CRAZY 2012 share price record
Is an equally massive share plunge in the offing?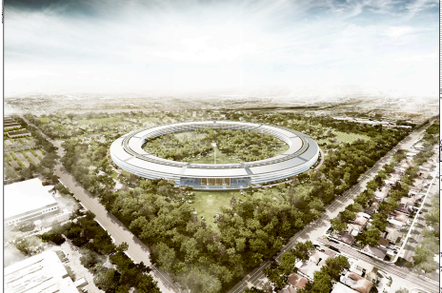 Apple stock has soared to a high unmatched since the glory days of 2012, with analysts predicting its price could continue to skyrocket and reach record levels.
The price of a fruity share is now sitting at $96.45. When you adjust that to take into account the recent one-to-seven stock split, that's not far off from the record closing of just over $700 that Apple's stock achieved back in September 2012.
Few investors can forget the plunge which followed that surge, which saw Apple's stock value plunge to just over $55 apiece (adjusted for the split) last April.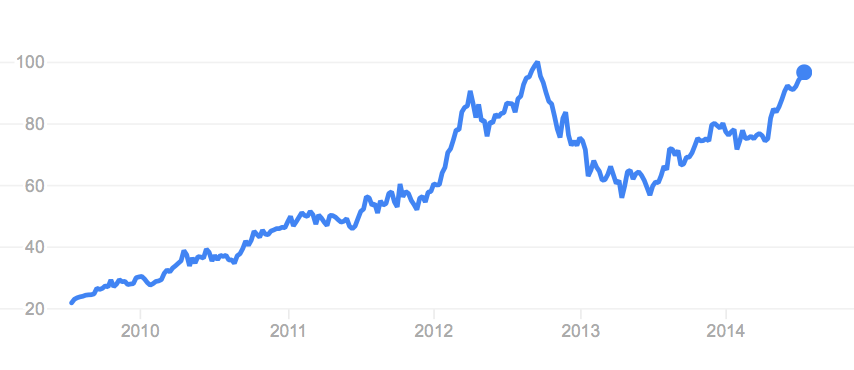 However, some analysts are cautiously predicting good times ahead for the firm. According to a note from Barclays' analyst Ben Reitzes, Tim Cook "has solidified his strategy and re-gained the confidence of Apple stakeholders in many ways — reversing many of the warning signs we saw earlier this year".
He has raised his prediction from $95 to $110, which would be the highest price ever achieved by Apple stock.
Morgan Stanley analyst Katy Huberty also predicted Apple would stun Wall Street, and also pegged its stock up to the magic $110 level.
She predicted that Apple would post good results in July, before flogging between 30 million and 60 million iWatches over the next year or so, benefiting from the "halo effect" of fanbois who have already been caught in Apple's irresistible web.
At best, Huberty suggested the price of Apple stock could go into orbit at a high of $132 per share, or experience a relatively gentle parachute to Earth and end up valued at $74 a piece.
The chart below shows the steady climb of Apple's stock throughout the past year.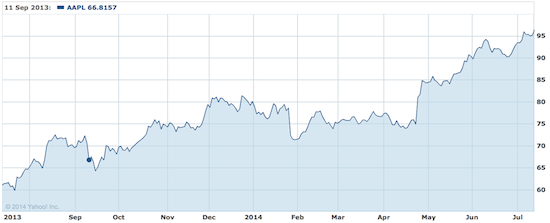 In other fruity news, rumours are circulating that White House spin-doctor Jay Carney is being considered for the easiest job in tech: an Apple press officer*. Apple famously leaves the press to speculate over features etc for months on end and is probably planning to say absolutely hee haw about anything from now until forever.
The White House staffer's name is also reportedly being mentioned by HR bods at taxi app Uber. ®
Sponsored: Minds Mastering Machines - Call for papers now open