Microsoft's Lumia 930... a real HANDFUL
Microkia's latest high-end handspawn has a shot at the title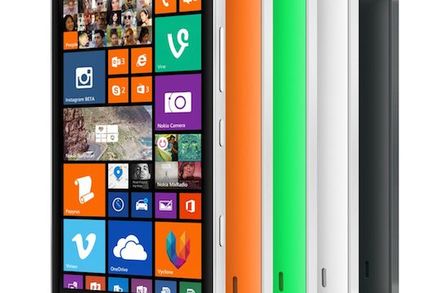 First fondle Microkia's new Lumia 930 is quite a handful – in the best way possible.
Let's start with the phone's dimensions. At 9.8mm deep it's rather chunkier than the 8.1mm Galaxy S5 and 7.6mm iPhone 5s. And that's a good thing: in my paws the Apple and Samsung phones sometimes feel a little too thin for casual handling. The 930 feels solid, durable and somehow demands attentive caresses.
There's no immediately-apparent change between Windows Phone 8 and Windows Phone 8.1, so the operating system holds few surprises. I've always found Windows Phone to be intuitive and pleasant to use. As deployed in the Lumia 930 it offers a more polished out-of-the-box experience than the Galactic implementations of Android with which I am most familiar. Indeed, I usually find myself applying a third-party launcher to smooth out Samsung's "value-adding". There's no need to do so with the Lumia.
Microsoft has clearly put a lot of effort into making signup to email and other online services a snap. There's even options to link to Notes email and Apple's iCloud, gestures that Microsoft would have been too snobbish to make in times past.
Apps remain a problem. I've surrendered a bit of my life to Google, so the absence of Chrome from the Windows Store is regrettable. A couple of other apps on which I rely on for secure access to various online resources also aren't available. One app that does exist – Windows Phone for Mac - seems surplus to requirements: it would be preferable for the Lumia to mount as a drive instead of requiring intermediary software.
The Lumia 930's screen is glossy and bright. The sheen on the slightly-curved screen is said to be the be the product of 70 minutes' robotic rubbing. Images, still or video, are very crisp and colourful. This stop-motion video of woodgrains looked better on the Lumia than on the vintage ViewSonic behind which your correspondent camps during working hours.
No headphones lurked within the box in which our test Lumia lodged. On-board speakers produced a little clipping, a common enough and excusable problem.
Nokia's staked its reputation on cameras of late and the 930's doesn't disappoint even if it is only a 20MP model compared to the Lumia 1020's 41MP whopper. On-screen controls for changing virtual lenses, altering focus and setting ISO are more accessible than those I've seen on other phones, giving users a chance to do a little more than point, shoot and hope.
The results? Here's a shot of a fence in my neighbourhood. I think the Lumia does a decent job of picking out the black bars, small white flowers and tinges of red in the leaves.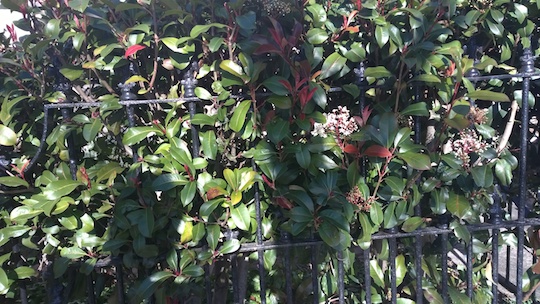 The Lumia 930's camera at work. Click here for the shot at native 3072x1728 resolution if you'd like a closer look.
The phone feels like a head-to-head contender with other premium smartphones like the iPhone 5s, Galaxy S5 and HTC M8 in all aspects save for availability of apps.
It may be ahead of all on price. Here in Australia the 930's A$729 price, complete with 32GB of storage, is handily below the iPhone 5s' and M8's $869 street price, and the S5's $844 price tag. Indications are that at next week's launch the 930 will undercut its rivals in other nations, too. If it does so, Micronokia has a contender on its hands, no matter than the 930 is late to the party after its February debut as the Lumia Icon in the USA. ®
Sponsored: Minds Mastering Machines - Call for papers now open