'Apple is TERRIFIED of women's bodies and women's pleasure' – fresh tech sex storm
Feminists take CEO to task over iThing etch rules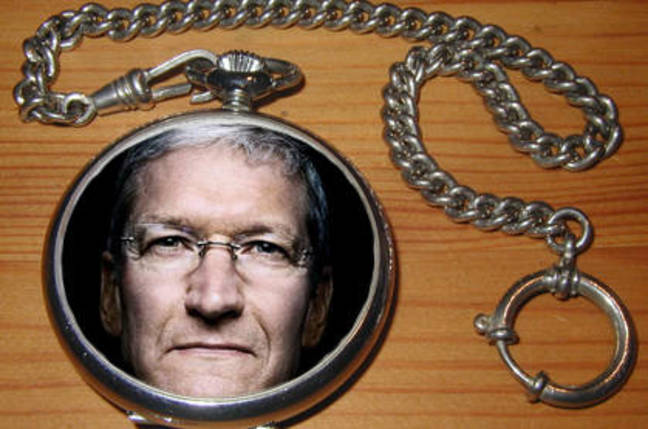 NSFW Apple is weathering a sexism storm after its website apparently refused to engrave a raunchy poem on a newly ordered iPhone.
Enraged that the California giant allowed penis, dick and similar words to be engraved on mobes – but, crucially, not clit – men and women in favour of equal opportunities have given Apple boss Tim Cook a piece of their mind on Twitter.
Using the hashtag myclitmychoice, huge numbers of angry feminists demanded the iThing CEO step in, and allow them to engrave various names for lady parts on their new gadgets.
The brouhaha was prompted by Justyn Hintze's blog post: she wanted to write the following lyric by the poet and singer Alix Olson on the back of her iPhone, but was denied by the Apple store website:
I'll give myself a lube job, shake my broomstick til my clit throbs
Hintze argued this line is "feminist, sex-positive, and it makes me smile. Every. single. time."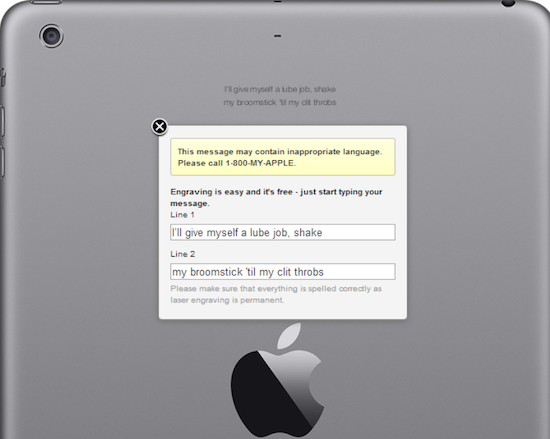 Editing the offensive iPhone engraving on the Apple website prior to ordering
But stuffy Apple decided there would be no clits on the iPhone, and did not allow the blogger to enter her selected quote into the automatic engraving web page. The site did, however, allow her to type in various words for a man's appendage:

Using penis is a-OK with Apple
Hintze noted on her site: "My hypothesis was correct: the reason I cannot use the word clit is because Apple is so entrenched with sexism and misogyny, and frankly, is terrified of women's bodies and women's pleasure."
Here are a few of our fave tweets from her supporters:
Come on! You can inscribe your iPad with penis and dick but not vagina and clit? #myclitmychoice @tim_cook

— Diana Pozo (@marip0zo) July 9, 2014
Hello @tim_cook, this is a #clitoris. Ever heard of it? Did you know how big it is? :D http://t.co/9i33vcFGmk #myclitmychoice

— sonja dolinsek (@sonjdol) July 10, 2014
@Tim_Cook Can we not have misogyny in your engraving policies, please? Let people get what they want on their iPads. #MyClitMyChoice

— Nefarious Nautilus (@NefariousNautil) July 10, 2014
If anyone can explain this joke, we'd appreciate it:
Me explaining my Apple #Sexism issue to my mom: "IT'S SO RIDICULOUS!" Mom: "No pun intended." Haha! Thnx for the laugh, Mom. #MyClitMyChoice

— just lust (@justynashley) July 10, 2014
Given Apple supremo Cook proudly attended this year's San Francisco Gay Pride parade, held late last month, El Reg can only assume he supports equal opportunities – and will scrap this cyber-sexism. ®
Sponsored: RAID: End of an era?