Microsoft's partner mega-fest: Want to see on-prem kit? TOO BAD
Wimbledon, Glasto not only the summer events ruined by cloud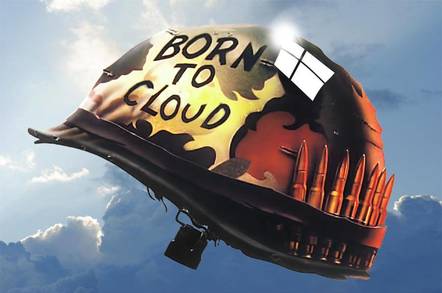 WPC Microsoft's global head of channels, Phil Sorgen, says the view from his exec box at next week's Worldwide Partner Conference will look like a typical British summer - cloudy, very cloudy indeed.
In what will be a disappointment to some in Microsoft's old guard – those who are still taking tentative baby steps toward 21st century tech selling – Microsoft engineers seem set to present mostly web-based products, at least that is the impression the company is giving.
Sorgen last night blogged ahead of the WPC kick-off (13 July) that it is trying arm channel people with the Most comprehensive set of cloud technologies".
For starts, Azure StorSimple - a hybrid cloud storage service - is, er, coming at long last, he said. Sort of. It will be another three weeks before it hits the streets.
Sorgen added:
"Azure StorSimple simplifies disaster recovery, consolidates management and bring on-premise data to the clou…"
El Chan is sure both partners and customers have heard the pitch before, so we won't roll it out in full.
Another product available purely in preview mode at WPC is the Azure Machine Learning service, which channel types can use to build analytic cloud services in "minutes and hours".
Apparently this does away with the "heavy lifting" related to deploying "machine learning in modern data-driven applications".
Sorgen said "more than 8,000 customers and partners" sign up for Azure each week, though he did not talk about the extent of trade generated by these accounts.
He added that from next week, infrastructure-as-a-service functionality will land in the Azure Preview Portal. Microsoft claims web front lets users manage virtual machines and "single click" SharePoint deployment to manage those VMs within the portal.
Partners will also get a sneak peak at Azure Event Hubs, a service that Redmond says brokers millions of events per second, allowing either the partner or the customer to collate, process and analyse data for smart devices in the cloud.
The Office 365 suite of online apps is also to get a bit of lovin' at WPC, and we are also promised a fleshing-out of the "SMB plan line-up" that launches on 1 October for firms with one to 250 seats.
The plan is expected to "greatly simplify the sales process for our partners, shorten sales cycles and improve upsell," said Sorgen. It comes in three flavours with sliding price scales and features.
And Delve, powered by Office Graph, which lets customers search content across Office 365 and delivers personalised insights based on machine learning, will also be showcased next week. It will not be available to buy until "later in the year".
"Cloud will continue to be a large part of WPC this year," said Sorgen, who thanked partners in advance for coming on the "cloud journey".
The direction of travel for Microsoft is to sell more of its wares as a service, but the pace that channel partners are building cloud practices varies greatly, as Microsoft recognised following WPC last year.
At nearly $2,300 a ticket to attend WPC, long-standing partners want to see the vision for future growth but will also want a handle on developments in the on-premise world, where most of their business still resides. ®
Sponsored: Minds Mastering Machines - Call for papers now open