'Green' Apple: We've smudged a bit off our carbon footprint
Er, you're still manufacturing computers, right?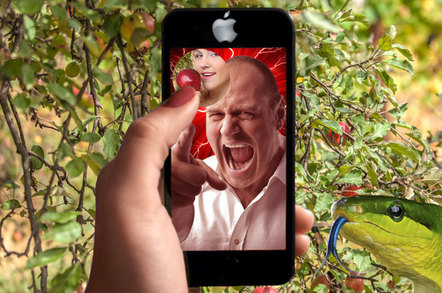 With a product refresh rate that sees it chomp through natural resources like a chubby child demolishing a Mars bar, it's difficult to see Apple as a particularly environmentally friendly organisation.
Nonetheless, the fruity firm has said it is committed to making its operations as green as humanly possible.
In its latest environmental impact report (PDF), Cupertino claimed its carbon footprint had been slashed by 31 per cent between 2011 and 2013, even though its energy consumption increased by 44 per cent.
Of course, the bulk of its "carbon footprint" comes not from its data centres, which are known to be green, but from the manufacturing process right on down the supply chain. Apple pumps out 33.8 million tonnes of greenhouse gases into the atmosphere each year, which is about the same as Nepal.
According to its environmental responsibility report, all Apple's data centres are powered by renewable energy sources including solar, wind, and geothermal power.
This means that whenever fanbois run Siri, Maps or iMessage, they are using burning no nasty fossil fuels.
Apple now also runs more than 140 of its US retail stores and all 21 of Australian stores on renewable energy.
Moreover, the new Fruit Loop headquarters will be 100 per cent renewable, serving as an "ever-present reminder of our commitment to sustainability and an example of what every corporate campus can be" (and they don't mean circular and grandiose).
A good deal of effort has been put into making packaging smaller and easy to ship, with the iPhone 5S sold in a box that is 41 per cent smaller than the original iPhone and new iMacs contained in a slanted box which makes it easier to cram more into a shipping container.
According to Apple, it now saves one jumbo jet journey for every 416,667 iPhones shipped.
The most obvious way for Apple to make itself a bit more green is to enable upgrades for its constantly updated range of gizmos, rather than just releasing version after version of more or less identical iThings.
"There are limits to our planet's riches," Apple said. "So we're working hard to take no more than we need. Using less. And recycling more. We've come up with innovative ways to minimise the environmental impact of our raw materials by using more recycled, recyclable, and sustainable plant-based materials. From the aluminium in our notebooks to the paper in our packaging, we're conscious of every material we use — and of using every material responsibly."
Really? It soldered the memory into the latest refresh of its all-in-one iMac desktop, which was supposed to be a budget way for fledging fanbois to get hooked on Apple. Sadly, what it really meant is that they had forked out close to a grand for a well-built but watered down iMac which was more or less impossible to upgrade. ®
Sponsored: Minds Mastering Machines - Call for papers now open