In space no one can hear you scream, but Voyager 1 can hear A ROAR
Boffins now very, very, sure craft is in interstellar space, and it's picking up 'sounds'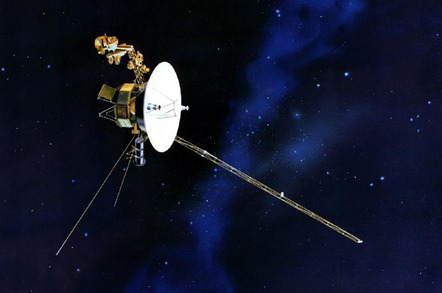 Hero space probe Voyager 1 has sent home what NASA is calling a "sound" from the cosmos.
The venerable spacecraft – now 19,093,090,914km from Earth at the time of writing and moving further away at a rate of about 15km a second – recorded the "noise" in March. That was when a pressure wave caused by a coronal mass from the Sun passed it by.
Voyager's cosmic ray instrument and plasma wave instrument both detected the wave as it passed. The latter is important because Voyager is now in a region of space where's there's not much other than the occasional particle of plasma. For the plasma wave instrument to have detected changes is therefore a sign of the pressure wave's passing, while the cosmic ray kit figured out the origin of the change.
Ed Stone from the California Institute of Technology, who has been a Voyager mission scientist since 1972, said "The tsunami wave rings the plasma like a bell."
NASA boffins say the detection of the wave – the third such event Voyager has recorded – gives them greater confidence that Voyager has reached interstellar space for the following reasons:
"Because denser plasma oscillates faster, the team was able to figure out the density of the plasma. In 2013, thanks to the second tsunami wave, the team acquired evidence that Voyager had been flying for more than a year through plasma that was 40 times denser than measured before -- a telltale indicator of interstellar space."
But NASA is at pains to point out, reaching interstellar space doesn't mean Voyager has left the solar system. That won't happen until it passes the last of the comets influenced by Sol's gravity.
Will the Voyagers make it? The mission publishes weekly reports on the two vessels' status. Voyager one has, of late, burned through rather a lot of fuel, expending nearly 400 grams in the weeks of May 9th and 16th combined, leaving it with 18.67 kilograms. That's a marked contrast to most weeks, when the craft use about five grams of fuel. Voyager 2 has 25.67 kg of fuel remaining and also uses about five grams a week. Both, therefore, have enough fuel for decades of typical operations.
The reports also detail attempts to contact the craft. Voyager 1 seems to be doing well: it receives most commands. Voyager 2 is less well-behaved as it often fails to receive commands.
If that sounds feeble, remember that the Voyagers launched in 1977. Then ask yourself if you own anything that old that's still working, never mind contactable after travelling more than 17 light hours through the radiation-wracked nastiness of space. ®