Apple OS X Yosemite 4 TIMES more popular than Mavericks
Big Data crunching? Nope. Big advertising spinning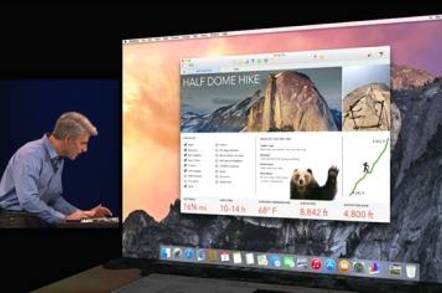 Four times as many developers are using Apple's OS X Yosemite as used its OS predecessor Mavericks, we are told.
That factoid comes from web advertising network Chitika, which claims Macs running Yosemite generated, in one month, four times more ad impressions than those running OS X Mavericks during the same period last year.
Yosemite was unveiled on June 2 at Apple's WWDC as a beta for programmers, and focused on beefing up the engines of the desktop operating system.
The advertising biz counted up the number of ads served within the US and Canada between June 2 and July 2, and found that on average Yosemite Macs generated .20 per cent of OS X traffic, compared to the .05 per cent of OS X traffic logged to Mavericks following its unveiling in 2013.
"Overall, the data point to a promising future for OS X Yosemite. In the short term, we expect the operating system's usage share to grow in the wake of the release of the third Developer Preview edition on July 7, 2014," Chitika concluded.
"Additionally, with the increased level of developer activity thus far, along with the success of the similarly no cost OS X Mavericks, it's very probable that OS X Yosemite adoption will outpace that of any other previous Mac desktop OS when it is released publicly later this year."
The ad network, which pumps out "hundreds of millions" of impressions in North America, notes that Yosemite accounts for an extremely small portion of OS X traffic on its networks – understandable given that the new OS X is only available to developers as a beta release and will not hit general release until this Fall.
Mavericks machines maintain 45.7 per cent of all Mac traffic on Chitika, while OS X Snow Leopard has 17.5 per cent and Mountain Lion 17.1 per cent.
The company believes that Yosemite has so many new desktop features and user interface tweaks that developers are encouraged to spend more time using the thing, hence why they can be found hanging around the internet a bit more.
The operating system will sport new options for iOS integration as well as new versions of Safari, Mail and Spotlight.
"The increased level of aggregate activity for Yosemite is likely partially driven by the prominent changes present in this OS version fueling a higher degree of developer curiosity and experimentation," the ad slinger noted.
"The changes to Safari in particular may be prompting a greater amount of web usage from current users in terms of testing and customization." ®
Sponsored: Minds Mastering Machines - Call for papers now open