EMC huffs, gives XtremIO a polish, shows off shiny data services
New starter box and larger clusters for your enhappiment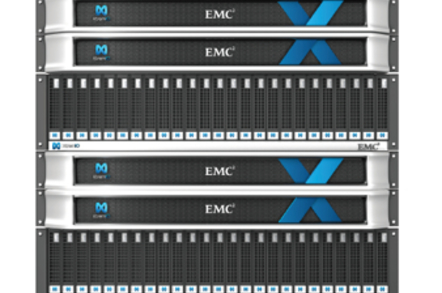 EMC's XtremIO all-flash array will benefit from new data services and models as the company spools up to take on Pure Storage, IBM and other flash array competitors.
There is a new 5TB Starter X-Brick, lowering starter costs, and X-Brick clusters can scale out to six nodes with 12 active controllers. The Starter X-Brick can scale up to a full 10TB X-Brick.
The 6-node cluster supports 20TB X-Bricks and EMC says performance increases 50 per cent in IOPs terms and capacity also increases by 50 per cent.
EMC is also announcing:
XtremIO 3.0 software code upgrade to existing XtremIO arrays with advances in security, capacity, performance, and functionality.
In-memory, metadata space-efficient snapshots to instantly create high performance application copies.
Inline, always-on data compression, meaning up to 4X more usable capacity; 90TB usable capacity becomes 540TB effective capacity. This is a 6:1 data reduction enabled by compression and deduplication.
Inline data at rest encryption.
Support for ViPR's SRM Suite, ViPR and VSPEX.
XtremIO is supported as Cinder block storage in OpenStack clouds.
The snapshotting enables, EMC says, "on-demand, Petabyte-scale application environments," and the instant creation of "entire application development and test environments where every engineer gets a personal sandbox, enable high-performance analytics and reporting copies without any brute force data movement, and deliver near-CDP capabilities for data protection."
EMC says XtremIO's v3.0 software's performance improvements means "OLTP databases run nearly 1.5X faster, data warehouses achieve nearly 2X better throughput, and cloning virtual machines takes half the time."
There are shades of Actifio, Delphix and Catalogic Software copy data management (copy reduction) here.
EMC believes its XtremIO product is the fastest-growing all-flash array, and the fastest-growing storage array, in history, and wants this to continue. It's announcing am XtremIO Xpect More Program with three main features:
Maintenance price protection: For up to 7 years, annual support pricing will not increase from its initial price. This allows EMC to provide the lowest TCO over the full lifecycle of the arrays.
A 3-year money-back warranty if XtremIO does not meet its specifications and other remediation isn't sufficient.
Flash endurance protection: EMC will replace any SSDs should they reach 95 per cent of their endurance limit within the period of the customer's support contract.
This initiative complements the existing EMC XtremIO "$1 Million Inline All the Time Guarantee" and the EMC Flash Rescue Program, a trade-in program that enables customers to trade in third-party flash arrays that have not lived up to expectations due to, for example, system-level garbage collection, poor usable capacity, and other performance issues.
The performance and effective capacity improvements plus the data services improvements as well as the lower entry price will help EMC resist Pure Storage and IBM, its main flash array competitors.
All XtremIO 2.4 capabilities (Starter X-Brick, inline encryption, writeable snapshots) are available immediately. XtremIO 3.0 capabilities (inline compression, larger clusters, performance improvements, support for ViPR, VSPEX and Cinder block storage.) are expected to ship this quarter. ®
Sponsored: Learn how to transform your data into a strategic asset for your business by using the cloud to accelerate innovation with NetApp