Mexican watchdog sinks teeth into Carlos Slim over 'market fixing'
But comms-TV split-up could help titan gain MORE ground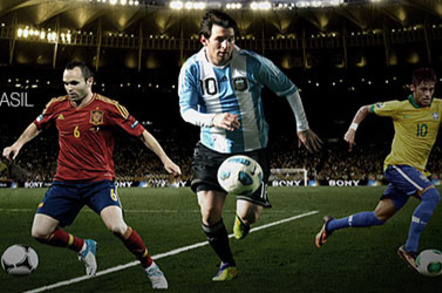 Comment The world's second richest human, Carlos Slim, is being confronted by Mexico's recently reformed and renamed telecoms regulator Instituto Federal de Telecomunicaciones (Ifetel).
His fixed line incumbent operator, Telmex, stands accused of breaching local monopoly rules through close collaboration with pay TV operator Dish Mexico.
The two companies have no common shareholders and are not formally partners, but their collaboration has been an open secret for some years, reflecting Mexico's demarcation between telecommunications and pay TV until now.
Telmex's parent company, America Movil, has apparently appointed a board committee to implement the regulatory changes necessary.
As a telco, Telmex, a subsidiary of Slim's America Movil group, has been prohibited under its licence terms from offering TV services directly.
Nevertheless, in November 2008, the company formed a partnership with DTH operator MVS Comunicaciones for the provision of a TV broadcast service, taking over part of the responsibility for billing. Then, later that same month, Dish Mexico was itself formed as a joint venture between MVS Multivision and Echostar Corporation, with Telmex again taking on some billing.
Hardly surprisingly, Canitec, the Mexican cable TV operators association, objected at once, claiming that it was both illegal and anti-competitive, but the then telco regulator Cofetel (Federal Telecommunications Commission) turned a deaf ear to continuing protestations from MSOs. The association between Dish Mexico and Telmex companies continued with no regulatory restrictions.
But then, in December 2012, a new government came in with a mandate to tackle the country's rampant organised crime and endemic corruption and new president Enrique Peña Nieto singled out the converging telecommunications/entertainment market for attention.
Cofetel was deemed not fit for purpose and was disbanded in September 2013, followed by appointment of Ifetel to take charge of future telco approval processes as well as convergence between fixed, mobile and pay TV.
This took place along with other measures in a radical telecoms bill as part of Nieto's blueprint for reform dubbed the "Pact for Mexico", which also included new regulations in energy, tax, finance, education and politics.
Ifetel's first key move followed after six months in March 2014 with new regulations to open up both telecommunications and pay TV to greater competition. The effect is therefore even-handed in the sense that it will clip the wings of America Movil on the one hand – given its near monopoly in both fixed line and mobile – while on the other imposing new constraints on the broadcasting duopoly of Televisa and Azteca, which between them dominate TV content.
At this time, Televisa and Azteca drew attention to the relationship ongoing between Telmex and Dish Mexico, which also gave Slim an option to buy into the DTH operator for $325m. Although this option was obviously subject to regulatory clearance, Televisa and Azteca argued that it was in breach of the original 1990 licence that prohibited Telmex from entering the pay TV market.
That was then, this is now...
Ifetel responded by opening an inquiry into this relationship between Dish Mexico and Televisa, probing two aspects: firstly whether it violated the telco licence and secondly whether it meant Dish should be precluded from airing content from both Televisa and Azteca without paying.
Slim's response was that this relationship was hardly news and had been investigated by the previous regulator. This was true, but that previous regulator was the now discredited Cofetel under the equally discredited ex-government. Furthermore, Ifetel insisted it had been passed no record of that option for Slim to buy a share in Dish Mexico for $325m.
Now Ifetel has decided that Telmex and Dish Mexico together exert too strong a control over their markets, even though the latter is only number three in pay TV, where Sky Mexico is the leader on 6 million subs.
The regulator has yet to publish its finding officially, but has sent it to Telmex and Dish to get their response first. The document has, however, been widely cited by various news agencies, apparently stating that: "The existing alliance between Dish Mexico Holdings and its subsidiaries with Telmex and Teninver (part of Telmex), are not solely focused in providing services, but have an economic goal to provide Telmex with the influence over the Dish Mexico business, allowing the coordination of these companies related to the decision making and behaviour in the Dish market. There is circumstantial proof that the summoned are probably responsible for concentrating."
The regulator appears to have concluded that this alliance has allegedly enabled Telmex to manipulate Dish Network for its commercial advantage at a time when it was not supposed to be in the pay TV business.
Local loop unbundling
Meanwhile, America Movil has finally lost its effective fixed line broadband monopoly, as Mexico at last joins most other significant economies by introducing local-loop unbundling. Telmex still controls 80 per cent of landlines as a result of this legacy.
On the mobile front, where America Movil has 70 per cent of the market, the government is considering stoking competition by excluding Slim's operation from participating in a future radio spectrum auction.
Apart from this investigation into the Dish and Telmex relationship, Mexico's tougher regulatory stance has been focused as strongly on TV as telecommunications. Ifetel has declared that Televisa and TV Azteca, which together hold about 95 per cent of the broadcasting market, are a "duopoly".
Ifetel is therefore enacting regulations clearing the way for new over-the-air broadcasters to come in, including an auction for at least two new entrants. At the same time, it is enforcing must-carry, must-offer rules on Televisa and TV Azteca for pay TV providers.
However, given its huge dominance over internet access in general, it will be hard to shift America Movil. Given the likely cord-cutting from traditional pay TV to online services such as Netflix, Slim could be poised to gain rather than lose overall ground in Mexico's converging communications and media markets.
Copyright © 2014, Faultline
Faultline is published by Rethink Research, a London-based publishing and consulting firm. This weekly newsletter is an assessment of the impact of the week's events in the world of digital media. Faultline is where media meets technology. Subscription details here.
Sponsored: Minds Mastering Machines - Call for papers now open