Battle ready: Valiant Hearts and Company of Heroes: Western Front
War is
Fun

Hell
Conflict zones
These puzzles and tasks are never too taxing, though some of the latter ones can be quite clever and complex, such as the dexterity puzzles that involve Anna healing the wounded on the front line – her patient's improving/failing health is charted on a bandage heart monitor scrolling across the top of the screen.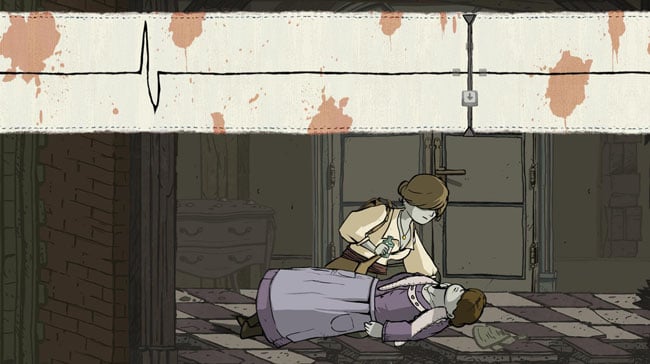 Bandage ticker monitors health
It's the ambitious scope of Valiant Hearts that makes it a piece of art. It takes on a variety of genres and does justice to them all at a sensible price. This is possible because of the obvious attention to detail and research of Ubisoft Montpellier. Starting a new area, the player will find the page of a book or discarded telegram that will detail relevant historical facts that add context to the game, as it details the experiences of the civilians, nurses and 65 million men who were mobilised during the First World War.
Indeed, Valiant Hearts: The Great War shows how human and animal spirit can rise above the conflict.
Company of Heroes: The Western Front Armies
It was with heavy heart and a sense of excitement that I downloaded the new Company of Heroes: The Western Front Armies expansion (no I won't do it the injustice of calling it DLC). I felt let down by Rome – which seemed like a step backwards – and after being drawn back into its close-knit online community, this is my new RTS game of choice.
Although players aren't immune to coming over all DOTA 2, on the whole, rage quitting is considered bad form and I always prefer a mutual group surrender.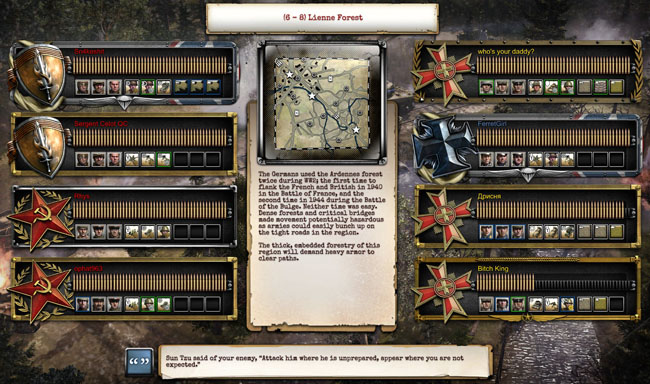 Taking sides – click for a larger image
The addition of two very different armies with their own distinct feel and personality, a bucketload of maps and various improvements to performance and presentation gave me a wealth of new options for a considerably small sum.
The Americans are back (as usual, late to the fray) with three new commanders, including my much-loved airborne division. Versatile, flexible and sneaky, they can grab control of a position while you're occupied elsewhere.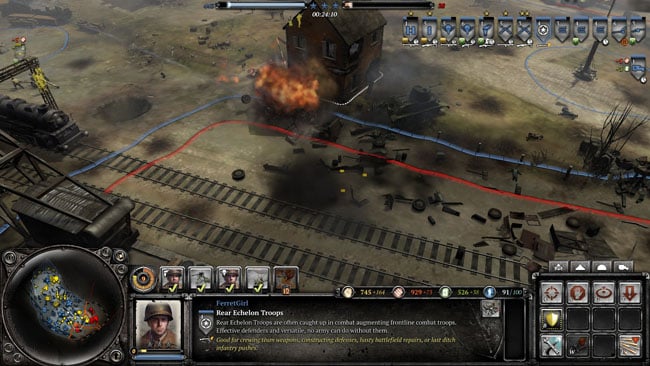 Bringing up the rear – click for a larger image
The Germans' Oberkommando West are all about slow, steady building and experience. Defensive points are created by supply trucks refashioned into command posts to secure the map and delay enemy advances.
The Company of Heroes 2: Western Front Armies DLC is a balanced and polished addition to a strategy game that was already near-perfect to start with. While some have complained that the cost is a bit steep for those who've already invested in the game, I have to admit my fingers never even twitched over that PayPal button, and the pricing is even more attractive to those who want to join the battle.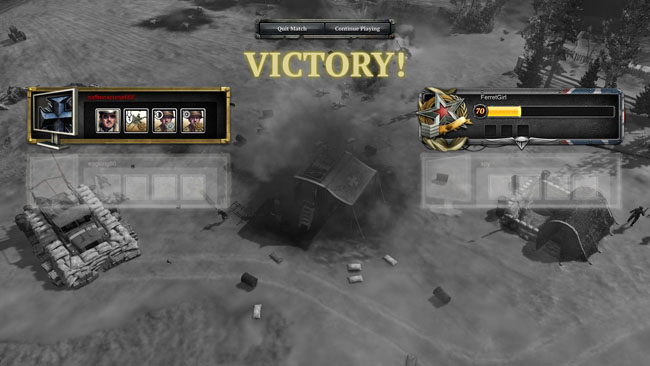 The battle is won – click for a larger image
Suddenly, war is, dare I say it, fun again. The trenches are forgotten and I'm escaping the horrors of war by glorying in its goriest battles. Ultimately, what makes war games, the endless TV serials and the books so compelling is the drama. Whether it's the drama of the tragic miseries of The Great War or the drama of battle – picking an elite army for a RTS multiplayer skirmish – let us never forget our history.
In the immortal words of Baldrick in Black Adder Goes Forth "Boom, boom, boom, boom." ®
Sponsored: Application managers: What's keeping you up at night?