European Space Agency demos MARS LANDINGS BY DRONE
Eat your heart out, Amazon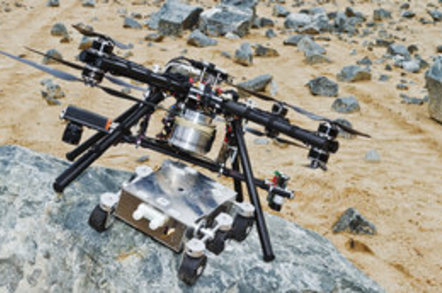 The European Space Agency has used an off-the-shelf quadcopter to demonstrate the latest output of its StarTiger rapid-development program: precision guidance and safe delivery of a rover-like vehicle onto a simulated Mars surface.
Getting to Mars is one thing, but as the ESA knows only too well, executing a successful landing on the surface is quite another.
That's why NASA's Curiosity Rover team was so ecstatic at the successful delivery of the Curiosity Rover in 2012 – and the ESA is taking some lessons from that mission's SkyCrane in its current work.
The "dropship" in the video below is the result of just eight months' work under the auspices of the ESA's StarTiger rapid development program: teams given a fixed development time to come up with a result.
The StarTiger Dropter project's brief was to "produce vision-based navigation and hazard detection and avoidance for the dropship".
"It has to identify a safe landing site and height before winching down its passenger rover on a set of cables", the ESA states.
In the video, the device rises to 17m altitude, falls gently back to 10m, and lowers the rover on a 5m bridle to its safe landing. That involves identifying the best spot to release the rover on the 40m x 40m rocky simulated Mars-scape.
The 'copter's approach was handled by GPS and inertial systems. Then the Dropter switched to autonomous "vision based navigation supplemented by a laser range-finder and barometer" to execute the landing manoeuvre. ®
Bootnote: As far as El Reg can figure, the point of the project is the guidance system, not the drone. Surely nobody at the ESA expects to use this sort of propeller in the thin Mars atmosphere, wher esurely they would struggle to generate enough lift to hover with a heavy drone? Aerospace experts are welcome to comment. ®
Sponsored: Minds Mastering Machines - Call for papers now open