WD adds Miracast support to feed-slinging tellybox gizmo
Small glitch: You still can't watch stuff from iTunes on it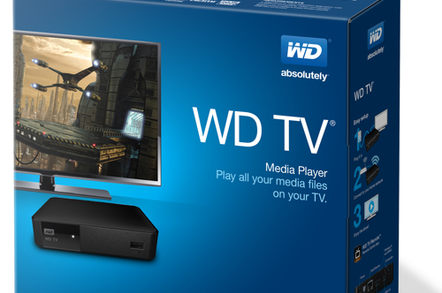 WD has updated its "sling your media to the TV" box and brought out the WD TV Personal Edition, adding Miracast support.
It's a media player that, according to the bumf, "plays virtually any media file stored on USB and network storage devices or any computer on the home network."
It supports file formats like MKV, MP4, AVI, WMV, MOV and others; the full list is availablehere. Files are streamable from any connected USB drive, like WD's My Passport Ultra and My Book products, personal cloud and network attached storage drives like WD's My Cloud, digital camcorders or cameras, and any networked PC or Mac computer in the home.
The UI, displayed on the TV's screen, enables us to customise the start screen with our favourite apps, create shortcuts to content folders for quicker access, and preferred apps to auto-run at start-up.
WD TV now supports Miracast (background info here), so that users can transmit media from a Miracast-enabled mobile device to their TV in up to full HD 1080p. It also does its media streaming thing with movies, videos, catch-up TV shows and connecting to social networks through apps such as YouTube, Hulu Plus, VUDU, SlingPlayer, Spiffy, Pandora, Facebook and more (full list here.)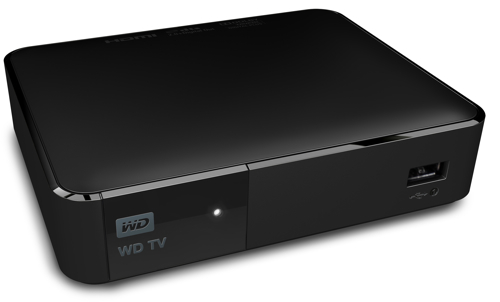 WD TV
A WD exec veep, Jim Welsh, who looks after WD's Content Solutions Business and worldwide sales, has a canned quote about it: "WD TV personalises the entertainment experience, providing the easiest way for consumers to playback all of their personal videos, photos and music."
WD TV, like Apple TV, Amazon's Fire TV, Chromecast, Roku and other dongles, is a set-side box that provides brings Internet streaming media and social networking to the TV alongside playing sound, photo and video content from your home IT set-up.
Apple iOS devices and Android Mobile phones can be loaded with a free TV Remote app to control the thing. Get it at the Apple App Store or Google Play.
The enclosure has 2 x USB ports, SPDIF digital output that can send surround sound to an A/V receiver, Ethernet port, and Wi-Fi link to home Wi-Fi router, and optical audio port. Its dimensions are1.2" high x 3.9" deep x 4.9" wide, and it weighs 0.42 pounds.
The WD TV PE seems to be a perfectly competent and reasonably priced piece of kit. You should realise, though, that streaming source service availability varies by country and region. Neither does the WD TV PE support protected premium content such as movies or music from the iTunes Store, Movielink, Amazon Unbox, or Vongo.
WD hopes that users of its domestic external drives will use WD TV to stream content from them to their TV, and also, no doubt, that WD TV buyers will look favourably on WD's external drives. Might we see a bundle, a WD My TV Passport or My TV Book product for example?
That might be a way of defending WD's TV streaming box if the competitive onslaught from and fight between behemoths Amazon, Apple and Google starts overwhelming its stand-alone TV box business.
WD TV can be bought now at select retailers and online at the wdstore. The suggested retail price is $99.99 (UK; £69.99 inc. VAT). It comes with its own remote control, with batteries, to add to your collection of remotes, a composite AV cable and, natch, AC adapter. ®
Sponsored: Minds Mastering Machines - Call for papers now open