Help us out readers: How would you sniff and store network traffic?
Phase two of our deep desert project needs your wisdom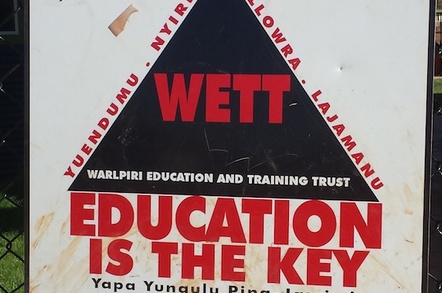 Having successfully averted the XP-ocalypse at the Wirliyatjarrayi Learning Centre in the remote Australian desert community of Willowra, Vulture South's operatives felt pleased with themselves.
As regular readers will know, our encounter with the facility, run by the Batchelor Institute of Indigenous Tertiary Education, led to us asking for your help to put together a Reg-worthy kit to help the centre avert the XP-ocalypse.
But getting the PCs themselves up to scratch is only a first step, because the Learning Centre's WLAN and satellite WAN are both slow.
We already understand some sources of the problem, but to do a thorough job we first need to understand what kinds of traffic the learning centre generates. And that's where we appeal to you, the sysadmins, BOFHs and evil genii of The Register's community.
What we'd like to know is how you would record traffic and then analyse it.
Right now, there is no server on site. There's just the PCs, a satellite gateway, a switch and a WiFi router.
Installing a server to do the sniffing probably isn't an option. Techies capable of doing the job don't visit very often, in part because it is a two-day round trip!
So we need something easily installed, perhaps on a single PC, and easily administered. When we last visited, we popped a VNC client on each PC, so that's probably the way things are going to get done.
The second requirement relates to bandwidth: the software's remote admin has to be suitable for the satellite link. A command-line interface that lets us log in and retrieve data without soaking the link would be ideal.
With that, we'd like to ask readers two important questions:
Are there other requirements we've overlooked?
What package/s do you think best suit our needs?
Over to you, Reg readers. ®
Sponsored: Minds Mastering Machines - Call for papers now open