SolidRun pitches upgradeable SBC into the IoT fray
Yet another board to take on Raspberry Pi
Another single-board contender has emerged to challenge the Raspberry Pi's title as lightweight champion of the world, with a pitch that it supports processor and memory upgrades in a single-board-computer form factor.
SolidRun is offering a 1 GHz ARM v7 processor as the base level CPU on a new HummingBoard board, which it says beats the Raspberry's 700 MHz ARM v6. Both the processor and memory modules can be swapped for upgrades.
Pitched as an Internet-of-Things platform, the base model is $US45 (plus $US10 for the power adaptor) and ships with 512 MB of RAM. The upper-spec 1 GB RAM model with faster silicon will set you back $US100.
SolidRun's offering three HummingBoard models. The "i1" has a single core processor, 512 MB RAM, 32-bit 800 Mbps memory speed, and a GC880 GPU. Next up in the range is the dual-core "i2" which adds more RAM and a 64-bit 1 GB memory config, and at the top, the "i2eX" has the dual-core processor but bumps memory speed up to 1066 Mbps and runs a GC2000 GPU.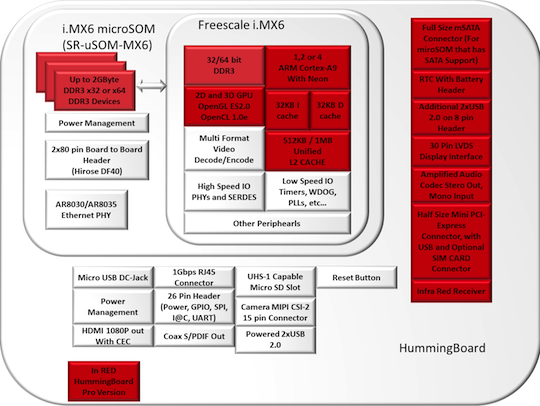 The HummingBoard block diagram
All the boards include HDMI support, MIPI CSI 2.0 camera support. The lower-rated versions ship with 10/100 Ethernet support, while the i2eX adds gigabit Ethernet (which, however, is limited by the bus to 470 Mbps). The top-of-the-line unit also packs in PCI-Express Gen 2, mSATA II, an infrared remote control receiver and a few other goodies.
The full spec sheet is here.
The company says the HummingBoard units will run various Linux distos as well as Android and XBMC. ®
Sponsored: Minds Mastering Machines - Call for papers now open