IDC busts out new converged systems charts, crowns Oracle as Platform King
Nutanix/Simplivity not shown - but they're there. Oh yes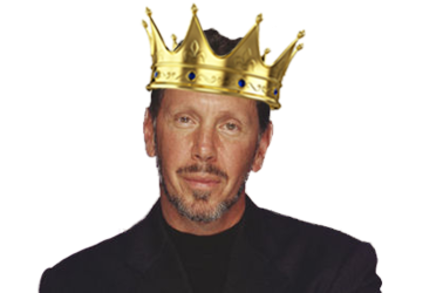 IDC's numerical navel-gazers have delved into integrated systems and found out that Oracle's engineered systems are crapping all over everybody else and FlexPod is winning out over VCE.
The IDC quants separate out Integrated platforms, like Oracle's engineered systems, from Integrated infrastructures, like VCE's Vblocks.
Here's how IDC justifies this;
Integrated Platforms are integrated systems that are sold with additional pre-integrated packaged software and customized system engineering optimized to enable such functions as application development software, databases, testing, and integration tools.

Integrated Infrastructure systems are designed for general purpose, distributed workloads that are likely to have differing performance profiles. While integrated infrastructure is similar to integrated platforms in that it will leverage the same infrastructure building blocks, it is not optimized for a specific workload.
In the platforms area Oracle is out of sight, with IBM and HP trailing in its dust cloud. IBM's integrated platform business shrank from the first quarter of 2013 to that of 2014, no doubt due to the sale of its X86 server business to Lenovo - or perhaps contributing to the reasons for that sale.
Here is the Integrated Platforms chart: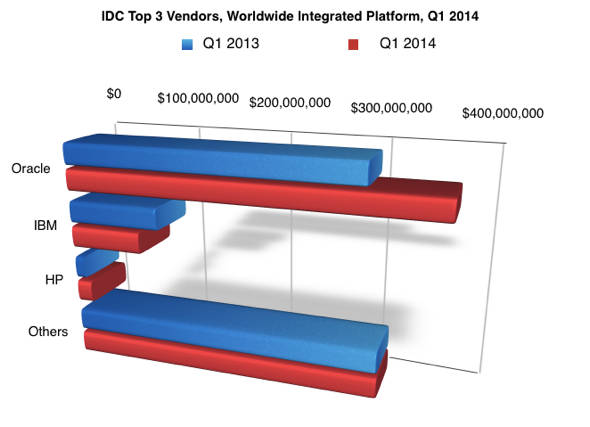 And here are the Q1 2014 revenue numbers:
Oracle - $369 million, up 24 per cent annually,
IBM - $74.3 million, down 21.2 per cent on the year,
HP - $15.5 million, up 71 per cent on the year,
Others - $310.8 million - Up 0.1 per cent on the year.
Total revenue for the quarter was $769.6 million, up 8.3 per cent annually.
The Integrated Infrastructure graph shows more change than the Integrated Platform one: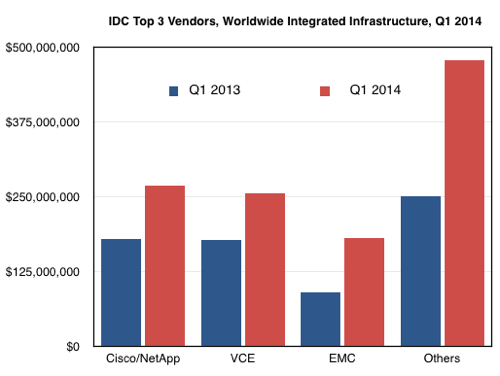 What this chart doesn't show is the impact Nutanix and Simplivity are making on the integrated infrastructure market.
The chart shows Cisco/NetApp FlexPods growing faster than VCE's Vblocks. Unlike Integrated Platforms, the "Others" category here grew faster than the total market, perhaps indicating Nutanix/Simplivity growth. Here are the numbers for the first 2014 quarter:
Cisco/NetApp - $268.4 million, up 49.8 per cent annually,
VCE - $254.3 million, up 43.8 per cent on the year,
EMC - $179.9 million, up 100.2 per cent on the year,
Others - $477.4 million - Up 90.2 per cent on the year.
Total revenue for the quarter was $1.18 billion, up 69.4 per cent annually, meaning neither Cisco/NetApp nor VCE grew faster than the market or even at the market rate. If we look at their Q1 2014 revenue market share numbers compared to Q1 2013 we see they each lost share:
Cisco/NetApp - 22.7 per cent, down from 25.7 per cent a year ago,
VCE - 21.5 per cent, down from 25.4 per cent a year ago,
EMC - 15.2 per cent, up from 12.9 per cent a year ago,
Others - 40.5 per cent, up from 36 per cent a year ago.
We think we'll see Nutanix and Simplivity affecting these results more clearly in the next few quarters.
For comparison, Gartner's gurus think VCE is leading FlexPod in their magic quadrant ranking. ®
Sponsored: Minds Mastering Machines - Call for papers now open