UK mobile sales in the toilet: Down by FIVE MILLION this year
Industry's last hope for a boost is Apple, say study's authors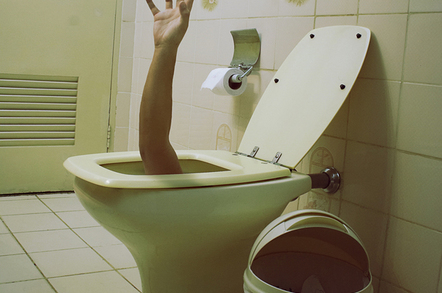 The UK mobile industry will be five million mobile devices lighter this year if a Brit consultancy's forecasts are to be believed.
CCS Insights expects an eleven per cent crash in smartphones shipments and a 14 per cent dive in slabs when compared to box sales last year.
Smartphone unit sales dropped 20 per cent year-on-year in Q1, as tablets, which broke all records in previous quarters, slumped by 17 per cent.
This is the first time such a sharp decline has been recorded in the once vibrant UK slab space, and could be something of a blip said CCS, which foresees a doubling of tab sales to 50 million by 2017 as businesses join consumers in fondling their pads.
Marina Koytcheva, director of forecasting at CCS Insight, said:
"We warned back in December that the spectacular tablet growth we've been seeing in the last two years was unsustainable. With replacement rates for tablets slower than those of smartphones, a temporary lull was inevitable."
CCS blames the moribund state of the handset market growth as being down to a lack of innovation and compelling reasons to upgrade, as well as customers switching from contracts to SIM-only deals after the two year lock-in period. The introduction of 4G has not been a trigger for people to upgrade, and customers are getting more savvy about the total cost of ownership.
A "free" phone from your operator isn't really free. Customers have figured out that buying an un-subsidised handset with a SIM only deal makes more sense than a contract package. This mindset not only affects the number of sales but the value of remaining sales.
Ben Wood, CCS chief of research, said that this could lead to a move to "super middle" handsets, which he sees as being better than feature phones but cheaper than top-of-the-range handsets as customers realise that Android is now a mature OS and they don't need to buy the most expensive models to ensure adequate functionality.
Longer battery life of the current generation of tablets is one the reasons people hang onto them for longer, the beanie said.
He added:
"This is a double whammy for device manufacturers. No one anticipated we'd see so much pressure on both tablet and smartphone sales at the same time. In response to slowing sales consumer electronics companies will be tempted to step up their marketing efforts and spoil buyers with a wealth of attractive promotions and bundles. Early signs of this have already emerged, with cheap tablets or wearables being thrown in with a smartphone sale to sweeten the deal".
The slowing of the tab market was noted earlier this year by channel partners who found themselves buried beneath a mountain of unsold slabs.
Wood does, however, think there is light at the end of the tunnel, and it's iPhone shaped. He sees significant pent-up demand for whatever Apple does next, meaning Cupertino's next product will cause a knock-on effect which will benefit the sales of other smartphones. This is not the case in the tablet market, where Apple completely dominates the high end.
Wearables are not a short term fix either, Wood said.
"There is no compelling business case for wearables", he claimed, while tempering this with the view that should one emerge, the Apple juggernaut notwithstanding, he expects Android Wear to dominate. This is kind of backing both horses and none.
All the research and figures are based on the UK market but unless the next iPhone does kickstart things in Blighty, Wood believes that there could be a fundamental shift in the market which will set a precedent for other countries – particularly those with a subsidy model. ®
Sponsored: Minds Mastering Machines - Call for papers now open