You CAN'T bust into our login app's password vault, insists Roboform
Um, I've made a vid of me doing exactly that, claims bloke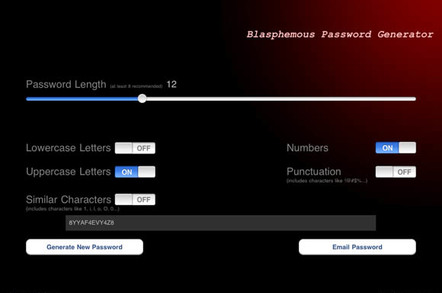 Password management company RoboForm has tweaked how the mobile version of its password manager works in response to criticism by a security expert. Yet the firm rejects further criticisms that its technology might easily be circumvented.
IT security contractor Paul Moore discovered a pair of what he argues are potentially serious security shortcomings with RoboForm's technology, which offers a free means for consumers to manage their login credentials.
Moore alleges that the security of RoboForm can be circumvented. At worst it might be possible to bypass all encryption and access data, he warns. This is largely because access RoboForm's mobile app (for both iOS and Android) is enabled with a PIN instead of the master password.
Without knowing the master password it was possible to access confidential data on an Android device simply by deleting a line in the preferences file, as a video demo put together by Moore explains.
Video of Paul Moore demonstrating how to bypass Roboform's security features
El Reg passed on Moore's criticisms to RoboForm, which, after reviewing his findings, rejected his warnings as misplaced. The firm strongly contests Moore's assertion that the RoboForm mobile app is "inherently insecure".
"Security is very important to us and we take all allegations seriously," said Bill Carey, VP marketing and business development at Siber Systems, the firm responsible for developing RoboForm. "At the end of the day, whenever you're dealing with a security-related product it's important to strike a balance between security and convenience. We think that we strike a good balance with RoboForm, but there's always room for improvement."
Moore maintains the issues he raised were far from academic.
"I agree there is a balance between security and convenience; but I don't agree that including an option which renders the encryption pointless is convenient to the user," Moore told El Reg. "Strong encryption should take years to break, it should not be possible to bypass it with two minutes."
The IT security consultant's critique is long and detailed but revolves around two main issues. Firstly that the master password is sent to Siber Systems, unnecessarily according to Moore, and secondly that the mobile application itself is insecure.
"The private key isn't private if you're required to share it to access the data and the mobile app is inherently insecure, but at least they're changing that now," he explained.
Siber said it was not able to replicate the password bypass issue. It argues that the demo was run using an emulator rather than a real device running RoboForm and that this invalidates Moore's results:
We are not able to replicate it. As I mentioned in the write-up, it's done using an emulator, not a real device. While it's feasibly possible, it's very unlikely that the average person finding a phone with RoboForm installed could execute the precise steps needed to do what Mr. Moore is doing with the emulator.

Additionally, our position is that if someone is able to root a phone, it's not just RoboForm that is vulnerable. Any other sensitive app would be vulnerable.
Moore responded: "The video was recorded using a Samsung Galaxy S3 running Android 4.3 using SCR Free from the Play Store. I do not use emulators, as they often do not provide real world results. I cannot understand why they're unable to replicate it; I'm yet to find a device upon which the exploit fails."
Breaking it down
Part of the disagreement between RoboForm and Moore stems from the implementation of a feature designed to allow users to log into the RoboForm portal from a computer on which the software is not installed. Moore's criticism is that this RoboForm Everywhere feature involves sharing a master key. Similar features from competitor LastPass avoid this, according to Moore. Siber strongly disputes this criticism:
It's important to note that Master Passwords are NOT actually cached on the servers. The servers cache it broken into two strings: the first is stored on the server in the session, and the second is stored in the browser cookies. The Master Password is calculated as a XOR of those two strings.
Moore said Siber has misinterpreted his criticism.
"I never said they were cached," Moore told El Reg. "I said that at some point, the server (thus anyone with access to it) has the necessary key required to decrypt the data. Breaking the key into segments does nothing to increase security. Ultimately, it doesn't change the fact that at some point, the private key is no longer private. If that's a considered design decision, it should be explained as such."
RoboForm has tweaked its mobile technology but it maintains this is purely a precaution.
As a result of Mr. Moore's review, we will re-evaluate the way that we store the Master Password on mobile devices and require that the Master Password be entered after a reboot, even if the user chooses the option to set the Master Password to 'Off'.

This way, if a phone is lost and a third party tries to access RoboForm either by guessing the PIN or bypassing the PIN function, the third party would still be required to know the Master Password.
®
Sponsored: Minds Mastering Machines - Call for papers now open