WANdisco plunges into the Hadoop foam party, shakes its replication booty
'This 6ft-4 Indian guy in hotpants is a friggin GENIUS'
History. In a pot
Here's a potted history table:
Founded in 2005 by David Richards (CEO and chairman), James Campigli (Chief marketing officer) and DR Yeturu Aahlad, (chief scientist).
ALM developed.
2012 - WANdisco listed on London Stock Exchange, raising $25 million.
November 2012 - Bought AltoStor Hadoop-as-a-platform company for £3.2 million in cash and shares.
2013 - Partnerships with Hortonworks and Cloudera.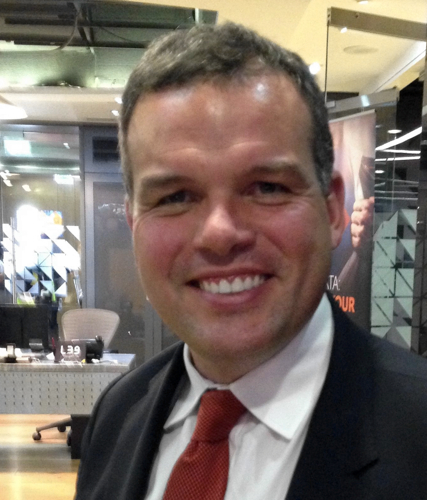 WANdisco co-founder and CEO Dave Richards
WANdisco saw an opportunity for its tech in the big data area and used some of the funds from the listing in buying AltoStor, based in Silicon Valley. That was a two-man business; Jagane Sundar and Konstantin Shvachko, two engineers closely involved with Hadoop, which WANdisco says they helped create as part of a 12-person team at Yahoo.
Shvachko implemented Hadoop at eBay where he was the Principal Big Data Architect. Sundar joined WANdisco as chief technology officer and vice president of engineering for Big Data and Shvachko as the chief architect of Big Data, with Shvachko saying:
"When we first spoke with WANdisco, we recognised immediately that WANdisco's patented replication technology, combined with AltoStor's products and knowledge, could create a compelling product offering that virtually every enterprise looking to deploy Hadoop could utilise."
WANdisco applied its so-called Non-Stop technology to Hadoop's NameNode, and then to availability and performance bottlenecks in HBase's architecture, its Region and Master Servers, to counter the risk of downtime and data loss. HBase is used for real-time interactive applications built on Hadoop.
AltoStor's software operates above Cloudian and/or Hortonworks. The idea is that Hadoop big data processing nodes can use WANdisco's ALM technology to provide continuous availability across data centres and so prevent failure in one data centre stopping operations until it is fixed.
The Non-Stop Hadoop technology supports Hortonworks and is now certified to run on Cloudera 5. Tim Stevens, Cloudera's veep for business and corporate development, cannily said:
"Cloudera 5 together with WANdisco's Non-Stop Hadoop technology enables us to deliver our full suite of real-time data analytics and data management applications for global multi-data centre deployments."
WANdisco also has an Application Lifecycle Management (ALM) product, including Apache Subversion and Git. Products like its SVN MultiSite Plus allows distributed development teams to work as if they are in the same location with continuous availability across the enterprise.
Branko Čibej is WANdisco's Director of Subversion, one of the most amusing corporate titles we have ever come across.
WANdisco looks like a great niche company with technology that will become the more popular as real time Hadoop-based big data analytics becomes more widely-used in enterprises. It is now a public company, post-IPO in other words, ands joins Neverfail and Vision Solutions' Double-Take in the server continuity business.
It looks to have stolen a march of both of these with this early hop aboard the speeding Hadoop bandwagon. ®
Sponsored: Learn how to transform your data into a strategic asset for your business by using the cloud to accelerate innovation with NetApp