X-IO offers emergency RACK IMPLANT treatment for moaning hosted VDI users
Hopes marketing fluffery will offer healthy sales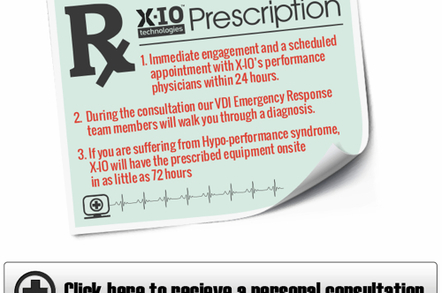 Does your VDI performance suck? X-IO is hoping you'll call the VDI doctor and bag yourself a treatment in as little as 72 hours.
The company claims its response can be implenented in as little as 72 hours after diagnosis, which itself is up to 24 hours after the customer's call.
If your Citrix or VMware VDI performance is a drooping dog, the vendor says, replacing your backend storage with X-IO's ISE arrays will turn your crawling canine into a gung-ho go-for-it greyhound.
This channel-friendly idea involves X-IO's distribution and reseller partners and a VDI Emergency Response website run by X-IO. Users with poor VDI performance are invited to request a free personal consultation by registering on the site, and then getting a dose of X-IO's ISE arrays to cure their ailment.
The home page hopes to tickle your funny bone with the following questions:
Are you experiencing any of the following?

Tinnitus following an increasing number of help desk calls
Earache from hosted desktop users complaining about their experience
An inability to perform adequately in the morning and evenings
Severe VDI lethargy whenever changes are made to the desktop
X-IO tells readers: "Treatments don't have to cost you an arm and a leg but can be resolved without resorting to high risk, unproven surgery techniques such as all flash arrays or hybrid storage arrays that use low-cost SATA disk technology."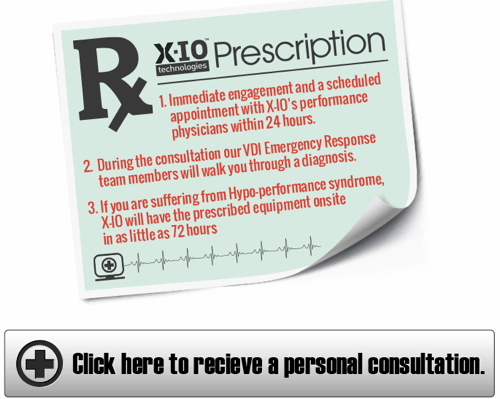 X-IO's prescription for crap VDI Performance. Click image to jump to X-IO's ER site.
It's great to see full-blooded fun marketing making waves like this. Naturally, X-IO has a customer testimonial, fittingly a healthcare provider. Florida-based AvMed's infrastructure manager, Nelson Remy, claims: "Some of our most critical virtual desktops, which also drive the most performance demand, were taking up to two minutes from login to desktop presentation on our existing enterprise SAN. ... Now, following the diagnosis and remedy we got from X-IO, those logins take just 10 seconds."
X-IO is plugging the idea that local experts, its trained resellers, can act as VDI performance "physicians" and respond to customers within 24 hours.
The vendor is no doubt trying to attract new resellers as well as drive more ISE product sales. ®
Sponsored: Minds Mastering Machines - Call for papers now open