Overclocking to 5GHz? We put Intel Devil's Canyon CPU to the test
Haswell refresh that's hot to trot
The heat is on
For testing I used the same setup as I used when recently tested Asus's Z97-A motherboard: 4GB Patriot Viper Extreme DDR-3 2133MHz memory, Zotac GTX760 Amp graphics card, Crucial M550 512GB SSD and a Noctua NH-U9B air cooler – so not an extreme setup by any means.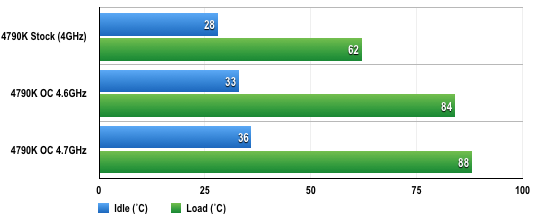 Benchmark temperature variations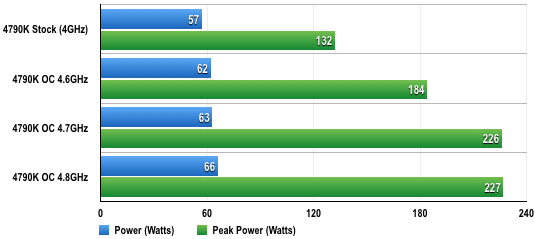 Power consumption – measured at wall socket
Using Prime95, I ran the CPU for 30 mins at Idle and then 30 mins at 100 per cent load. First I tried an overclock with the Asus EZ app in the Z97-A's BIOS, which raised the memory from 2133 to 2175.8MHz and the CPU to 4.08GHz (BLK 102MHz, 1.104v) – a very modest increase. Time to get the hands dirty in the BIOS.
With a 1.375v voltage tweak, I managed to get the sample to run stably at 4.7GHz. At 4.8GHz, it would boot into Windows and run Cinebench R15, but when it came to running Prime95 it would only manage a few minutes before causing a BSOD, not exactly what you would call stable.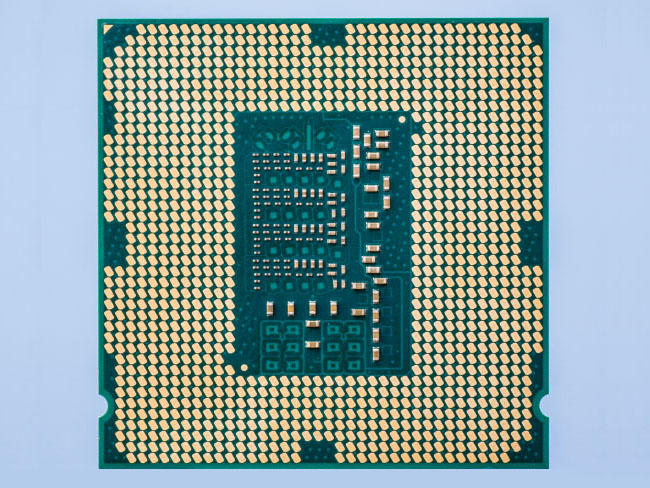 Devil's Canyon: Extreme overclocking potential – your mileage may vary
The Reg Verdict
With a 4GHz base clock on all the cores, Intel's i7-4790K is without doubt a powerful CPU, regardless of whether you're interested in the overclocking aspects of the "K" series chips. As for overclocking, well my early sample couldn't manage Intel's claims of 5GHz on air cooling and a scout around the web shows I'm not alone. It may be a different story for retail samples and with liquid cooling it might be easier to achieve.
On the plus side, the new processor is pretty close in pricing to the previous i7-4770K, which only reaches 3.9GHz in Turbo mode, so if you are planning to build a fast system out of the box, then choosing the i7-4790K is pretty much a no-brainer. ®
Sponsored: Minds Mastering Machines - Call for papers now open

Overclocking to 5GHz? We put Intel Devil's Canyon CPU to the test
Intel hits 4GHz as the base clock with its new quad-core Core i7 Haswell flagship processor that's unlocked out of the box for fun-packed overclocking thrills.