Alex Bouzari on his big data storage firm: First, we got rid of the VCs
Our Vulture picks DataDirect Networks boss's brains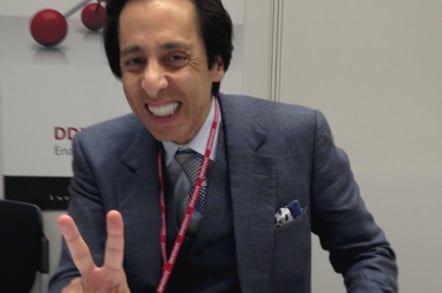 DataDirect Networks is quite unusual for a storage firm. First, it operates at supercomputer and HPC levels and is neither VC-backed nor a public company, making its internal strategies a matter for its execs alone.
In this respect, it's not as predictable or understandable as either a VC-backed startup or a post-IPO business. Lots of tales reach us about powerful personalities and viewpoint differences. DDN claims it is the world's largest privately held information storage company, but what is it all about and where is it going?
A briefing session from co-founder and CEO Alex Bouzari made things clearer.
Early days
Bouzari was born in Iran and lived in France, until his parents returned to Iran. He later returned to France for his college studies. Part-way through, he went to the US to continue studying because he wanted to invent things and the US was a better place than Europe (or, at least, France) to do that, in his view.
Bouzari studied engineering and economics at Caltech during the early 1980s and finished with a double degree in engineering and economics. He went on to MIT to study electrical engineering and spent a year at Stanford learning about business.
Then Bouzari, smitten with the idea of starting a company became involved with Personal Writer, a struggling handwriting recognition company. He became the CEO and, faced with a choice between a VC investing a million bucks and taking full control or licensing the IP for less cash, they said phooey to the VC and did a licensing deal. Bouzari is not a man who lets go of his company's reins.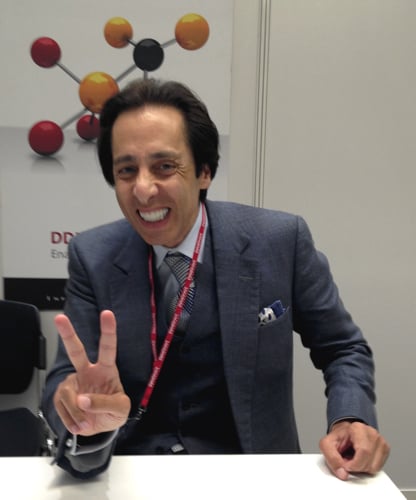 DDN CEO and co-founder Alex Bouzari
He was a founder and president at Mega Drive Systems from 1988 to 1998. This started out making robust and secure removable hard disk drives for US government customers and became a system integrator. It was in existence for 10 years and profitable in nine of them, reaching a $40m/year revenue level without any venture capital funding.
At that point they needed to either change gear and go into a different business mode to grow Mega Drive or, and this is what Bouzari decided, to remain in the technology business and focus on solving a bandwidth problem with storage used in high-performance computing (HPC).
This business model worked until it emerged that high-performance storage did not have high enough performance and so couldn't keep up with supercomputing and HPC computing's needs. Bouzari thought this could lead to a $100m/year company without needing too much of a focus away from technology.
So DataDirect Networks was formed in 1998 from Mega Drive Systems by Bouzari and co-founder Paul Bloch, using Mega Drive resources, and with a concentration on storage arrays accepting and delivering lots of data data at high speed. It involved the production of a real-time operating system from scratch and hardware assistance from ASICs and FPGAs to move data through the system at high speed.
Their first customer was NASA – pretty darn impressive – and that organisation is a current DDN customer.
DDN's VC experience
Bouzari recounts how, in 2002, DDN ran a funding round to accelerate the growth of the company, taking in $12m of VC money. Yet the VCs couldn't and wouldn't understand DDN's business model. They pressed for DDN to move down into the ordinary big data and go after a much larger total addressable market (TAM). But Bouzari and Paul Bloch, his co-founder, knew that DDN would simply get lost in the noise at that level and be viewed as a big risk by the CIOs of such customers.
They refused and eventually bought out the VCs in 2002 to be rid of them and the management layer they had forced onto DDN. What Bouzari and Bloch wanted was to be free to focus exclusively on fast access and high-capacity storage, particularly for unstructured data.
It was a high-stress time, with employees willingly suffering delayed and cut compensation until the company got back on its feet. The numbers tell the story:
1st half of 2002 - $3m loss
2nd half of 2002 - $3m profit
2003 - $25m revenue and profitable
2004 - lead VC investor bought out
2005 - $45m revenue
2007 - north of $100m revenues and remaining investors bought out
2010 - $188m revenues
Our view here is that this VC experience, following on from the Personal Writer experience, confirmed Bouzari's belief in himself and in DDN's vision. The company was successful in its niche but it wasn't going to become a billion-dollar-a-year company in it.
Again, our view of this is that there were contending strains of thought throughout the DDN exec ranks about how to grow the company to the $500m/year run rate and beyond, whether even to grow the company to that level. Should resources be committed to sales and DDN's operational infrastructure, or to the supercomputing/HPC area? How should sales be organised?
While this was happening, a "transformative" event happened: the onrush of big data and the realisation that HPC-class storage would be needed for high-end big data processing. And this could even lift DDN to a billion-dollar-a-year company.
Enterprise big data
Bouzari and his colleagues made a decision that DDN should follow the move of HPC technology into enterprise high-end big data. As HPC-style computing is being used by enterprises to deal with big data, DDN is following and selling its storage array technology to such enterprises.
There's big data and there's HPC and web giant-class big data. Ordinary big data, data warehousing and business intelligence "with attitude" (so to speak) gets served by mainstream system and storage vendors. They are going after a large TAM (Total Addressable Market) opportunity. HPC-class big data, with its need for lightning-fast IO as well as sheer data capacity scaling, is something else.
Bouzari might agree that where EMC, NetApp et al fail to meet their customers' needs in this area is the point where DDN steps in and makes things possible that others' arrays cannot. DDN concentrates on this well-defined high-end enterprise big data market and not on the ordinary, and much larger, general enterprise big data market. At that level where EMC, NetApp, IBM and others reign supreme, DDN is just background noise.
DDN's enterprise ground is the extreme high end of big data, with possibly a thousand enterprises as potential customers and a smaller TAM. In its niche, EMC, NetApp and pals are the background noise.
DDN is going to rely on customers at this upper extreme of big data – seemingly having realised that EMC, NetApp and their fellow suppliers may not be able to deliver the price/capacity and performance needed. Bouzari claims his customers are going to use DDN-class storage to enable big data-based apps that are new to their enterprises and make a profit. They'll be driven by a line of business leaders looking to get an edge on their competition by offering analytic resources to their customers that no one else can.
Quantitative analysis people in financial services, known as quants, will be able to run analytics on massive data sets in real time and do so repeatedly to get at a view of a company, a market or a sector faster than anyone else and better than anyone else. That way, in financial services, trading profits lie.
Bouzari contrasts this approach with the way enterprise storage arrays are sold to CIOs as storage cost-reducers primarily. Bouzari sees DDN arrays and products like its IME burst buffer cache being sold to entrepreneurial risk-takers who need faster and larger data delivery to fuel the applications they see as becoming possible.
DDN is not your average storage company. It is neither east coast in style, like EMC, nor west coast like NetApp or Sun – and neither was it founded in a garage in Silicon Valley folklore like HP, or a wannabe PC assembler's house like Dell.
Its soul is located somewhere else and its founders are not about to cede control of DDN's destiny to anybody else. That is a strength and a problem. In 10 to 15 years' time, who will take the startup's reins? Should DDN remain independent and privately owned, follow the IPO path or be acquired?
For now DDN plans to bring HPC-style big data storage and analytics to the business world and become, in the process, a much larger company. It's one to watch. ®
Sponsored: Minds Mastering Machines - Call for papers now open