DON'T BOTHER migrating legacy apps to the cloud, says CTO
You'll just be disappointed, says UBS gros fromage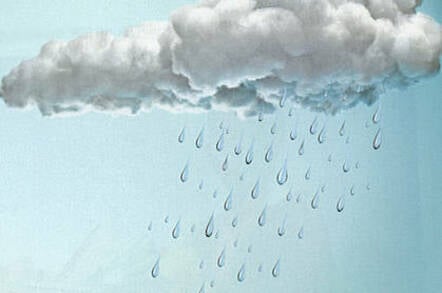 The president of the Open Data Centre Alliance has given sage advice to CIOs contemplating how they migrate their legacy platforms into the cloud: forget it and just dump your old code.
But Correy Voo, whose day job is as infrastructure CTO at UBS, added this was likely a temporary dilemma as the coming wave of tech bosses, who've grown up with theoretically unlimited resources at their fingertips, will not even contemplate such a move.
"Don't try to lift a legacy platform and make it a cloud process. There are some things that just will not fit a cloud environment," Voo told an audience at the Cloud World Forum event in London last week.
An application developed to deal with the constraints of the 80s and 90s, or even early noughties, would never take full advantage of the new platform, he argued. Banks and other financial institutions, many of which are members of the ODCA, will have stacks of such apps languishing on mainframes or other aging platforms.
"I'm not saying it's impossible - it's certainly possible if you want to throw a lot of time and effort at it," he told The Register "But...if I want to buy something brand new like a 4K TV I don't want to play low definition material on it."
"In my view the users in some ways are being cheated because they don't get the full capability of that investment." He cited mobility as one example of this mismatch.
The discussion about whether to migrate applications designed to cope with the hardware and infrastructure constraints of the 80s and 90s has a parallel in the differing attitudes towards infrastructure between younger and old tech pros.
"That discussion is coming to a head in some respects," Voo said. "Volume wise we're now at the stage where there's sufficient volume of new people in the industry who think differently to the old people."
"It'll be very fractious early on and there'll be a lightbulb moment where everybody will realise that's probably the right way of doing it."
"When it becomes easy to consume cloud technology without any of the complication, any of the cost implications...when that happens it's a no-brainer - you move onto the next problem."
As for what that problem is? Voo said it will be about how we manage and access data.
"Just because we have the ability to use a piece of data, doesn't necessarily mean we should ethically, so I think the IT industry and business in general have a number of questions to resolve in relation to data growth the type of data that's out there what we do with it." ®
Sponsored: Learn how to transform your data into a strategic asset for your business by using the cloud to accelerate innovation with NetApp