Ofcom to BT Openreach: From now on, you'd better kill 70% of gremlins within 2 days
Deadline for action on copper service kicks in from July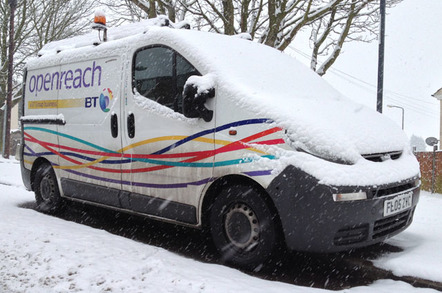 BT faces strict new measures to speed up Openreach repairs on its aged copper infrastructure from the start of next month, the UK's communications watchdog said today.
Ofcom warned BT that it will be expected to fix around 70 per cent of phone and broadband faults within two working days over the course of a year.
That benchmark rises to completing 80 per cent of repairs within the targeted timeframe by 2016, the regulator said.
BT will also be required to provide appointments for roughly 55 per cent of new line installations. Openreach engineers will be expected to visit a property within 12 working days of being assigned the job, Ofcom said. Up to 30 per cent of new line orders typically require an engineer on site.
By 2016, around 80 per cent of visits requested from rival ISPs such as BSkyB and TalkTalk, which rely on Openreach to provide a decent service, will need to fulfil that criterion.
Ofcom - which warned BT about the new rules in December last year - said that the telecoms giant would face sanctions including fines if it failed to meet the targets demanded from the watchdog.
The company will also be required, under the measures, to make clear to customers the timeframe in which it is currently completing any remaining repairs or installations.
Ofcom added that BT will be expected, from October this year, to publish quarterly reports online about Openreach's repair performance. The company told The Register that it planned to place such reports on its website starting within the next few weeks.
Poor weather conditions that prevent engineers meeting the service standard will be taken into account under some circumstances, Ofcom said.
"The targets allow that up to three per cent of repairs and 1 per cent of installations in a typical year might be delayed due to such factors," said the regulator.
BT said:
Openreach has already stated its commitment to meet and exceed these service targets. Current performance data shows that Openreach is well on track to meet the targets outlined for this financial year. The recruitment of a further 1600 engineers will help us to achieve and exceed the standards set for subsequent years.
As El Reg reported last year, BT's fibre service will not be subjected to such rules as Ofcom said that the one-time state monopoly had "met or exceeded its service level agreements" with such repairs and installations. ®
Sponsored: Minds Mastering Machines - Call for papers now open