What enterprise mobility means for my business
Customers speak at Windows Phone conference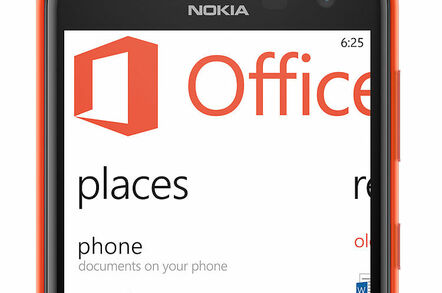 Promo Youtube Video
On June 4 Microsoft UK held its Business Transformed summit in London to share the love for Windows Phone and Windows 8.1.
We have already covered some of the speakers in two previous articles (here and here). In this outing we zoom in on the customer panel discussion that rounded off the conference.
The Register was a media partner for this event and we were there to film the proceedings. You can watch the panel above in full flow. For the text-centric, here is a summary.
Taking the stage were Peter Scott, director of end-user technology at BT; Ian Bell, head of ICT at Cambridgeshire Constabulary; Paul Russell, head of technical solutions at Ricoh; Jason Betteridge, managing director of Microsoft partner Ridgian; and Darren Foulds, director of Barclays Mobile and Pingit.
All represent what Betteridge described as "heavily Microsoft-invested companies".
The moderator was Microsoft's John Jester, general manager of Microsoft UK's enterprise and partner business. He kicked off the discussion by drawing our attention to the impact of consumerisation, or BYOD (bring your own device), on the enterprise, before going on to the panellists' experience with Windows Phone.
"Two or three years ago when I was doing my planning we thought that half to two-thirds of all customers would have moved to the BYOD model," Jester said.
"We have seen data that about a third of all customers have moved to bring your own device."
So the question was, why is the BYOD adoption rate lower than expected?
The panel's response was instructive but somewhat discursive, true to the nature of such events. Accordingly we have organised this article into some mini case studies focusing on mobile and internal IT.
(Alas this does not include Barclays. Although Darren Foulds is in charge of a massive estate – about 80,000 devices spread among 30,000 users – his contribution was to tell us about the company's hit mobile payments app, Pingit. You can hear what he had to say in the video of the event above and in this interview).
Peter Scott, BT
BYOD is routine, with about 12,000 users – perhaps 15 per cent of the company - opting to use their own smartphones and tablets at work, according to Scott.
However, BYOD is confined to supplementary use: BT supplies the core devices and does not does not support BYOD on laptops or desktops.
Scott sees the role of IT as keeping out of the way and letting people get their jobs done. That includes supplying staff with work-anywhere day-to-day software.
"Broadly, everyone is used to their laptops and their PCs and to working with Office and products like SharePoint and Lync. Being able to put into their hands a device that seamlessly opens PowerPoint presentations and renders them correctly, for instance, goes down really well," he says.
BT is already using Windows Phone and Windows 8.1 together in some scenarios.
"You needs something that works, it is fast, it gets connected – we can secure it in IT," Scott says. But he adds the business benefit starts to comes with the apps you put on devices.
"The apps start to unlock things we could never have done before," he says.
Scott is also a fan of the development savings afforded by using the Windows stack.
"One of the things we really like about Windows Phone and Windows on a PC is that we can start to develop these universal apps, where we develop the apps once and they run on both platforms. Otherwise it can get expensive to start developing for every single platform," he told the conference.
Ian Bell, Cambridgeshire Constabulary
One gets the feeling that BYOD is a bit of a sideshow for Cambridgeshire police. The force has experimented with the concept, at one time sandboxing a bunch of apps for 300 to 400 users.
But it has withdrawn this facility except on a case-by-case basis, even though mobile device management software makes administration more viable, says Ian Bell.
Of course police forces are subject to more security and regulatory constraints than most, and they operate in a local government environment where "bring your own is seen somewhat as the Devil", according to Bell.
Much more important is how to use mobility to enable the police to work more efficiently. To this end Cambridgeshire Constabulary is working with a developer called Black Marble to deliver touch-friendly applications for frontline police.
"A lot of work is going on with geo and the security that ties into that to make all the information we have available to them at the touch of a button," Bell says.
And the force supplies the devices – all Windows Phone, as you have already guessed.
"These devices have to work at 3am in the pouring rain. They have to work at noon in bright sunshine. In Window Phone we have finally found a platform where we can begin to execute some of that. We give them a device that brings them into the 21st century," Bell says.
The look of the devices also encourage police officers to use them, he says. It is not "just a device that is thrown into a bag and looked at on occasion".
Paul Russell, Ricoh
For Ricoh the key driver for mobile is not the device but what Paul Russell calls the "persona" of the user.
"A lot of our users move around our buildings a lot and our clients move around a lot and how they move around is really interesting to us. Ultimately, that will drive what we do and whether we adopt BYOD," he says.
So we guess that Ricoh is not big on BYOD, then. The company has moved its mobile fleets from BlackBerry to Nokia Windows Phone 8 and now Windows Phone 8.1. The company rolled out 8,000 Nokia Lumia smartphones to the workforce, which must make it an early adopter.
The company chose Windows Phone for two reasons: cost and productivity, Russell told the conference. The first consideration was to "exploit what we already have: we already had a big licence arrangement with Microsoft. That is the challenge: how to get the most from what you have already spent".
Russell described productivity as "making your day a little easier – a better 60-minute experience every day".
So how does this translate into practice? Take one example: RequestHub, a nifty app built by Ridgian, which works with SharePoint and SQL Server to pull down documents for people in the field.
This works even when no signal is available. Employees can pull information straight off or via email, to return when there is a data connection.
According to Russell, the "plethora of devices that Microsoft gives allows us to be more productive in a very secure way".
And of course, the Windows platform provides employees with access to applications they already use, including Microsoft Office, Lync, Yammer and Outlook.
Having Windows Phone devices also benefited the IT department, which was able to easily integrate the phones with existing infrastructure, Russell said. ®
Sponsored: Minds Mastering Machines - Call for papers now open