Gid E-Up? Vulture's claw presses pedal to metal on VW's 'leccy motor
Starts with a jolt
Secure remote control for conventional and virtual desktops
VW's new baby... Remember when the Golf was the 'littlest' car?
The nippiness is helped by its short wheelbase. The e-Up is only 3.5m long with very short overhangs. The front suspension uses struts with wishbones. A key component here is the sub-frame to which the single-pressing transverse link is mounted and which accepts loads from the anti-roll bar. The sub-frame is integral with the upper spring mounting and also carries the steering unit and the engine mountings.
At the back there is a torsion beam rear axle with the semi-independent suspension to keep the weight down. As for brakes, there are discs at the front, drums at the rear with ABS and electronic stability control. Like the petrol Up, there is a city emergency braking system which works at speeds below 19mph and uses a laser sensor just below the windscreen to scan for things you might hit and slams on the anchors if necessary.
Once upon a time the Golf was the small VW, but cars, like waistlines, grow with age and the small car ranges are the Lupo, Fox and now the Up – with the latter the cute little one.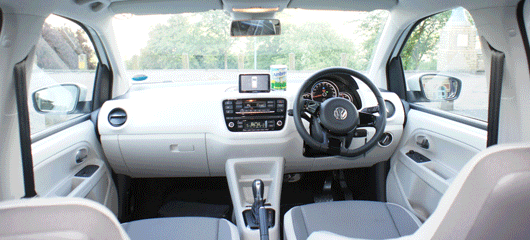 Inside there is a surprising amount of space for such a small car. The bootspace is good, with a strange two-level boot so that you store the charging gubbins below your shopping, but there was still plenty of space for two hundred quid's worth of Tesco's fodder.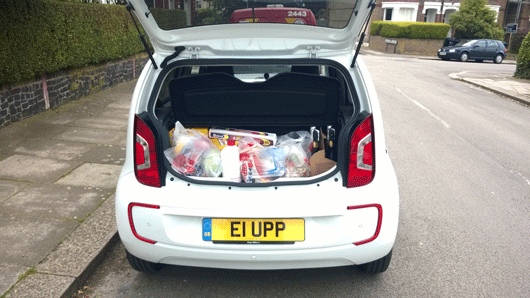 The e-Up is a five-door model and has odd back windows that only open on a catch and don't wind down. This isn't unusual on three-door cars but it's the first time I've seen it on opening doors.
The rear doors are too small for the window to wind down into them
And you do open the doors because the car is so nice you want to take people to places in it. Fit and finish is good and the cabin bright with good sight lines.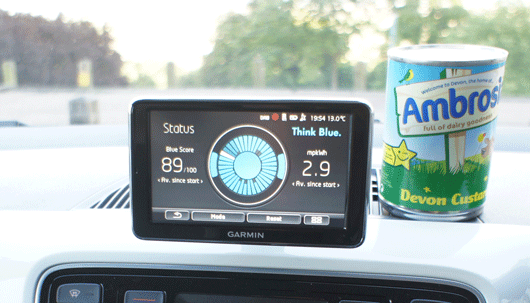 Plumb in the middle of the dashboard is the removable display which serves as a control for the phone Bluetooth, the multimedia system, sat nav and is your route to vast amounts of information on power saving and consumption. You can configure the power consumption and generation in a huge number of ways. The display is good, but the touch control, which I take to be resistive rather than capacitive, is poor. It was slow to take in information and I often got double and triple letters when I wanted one.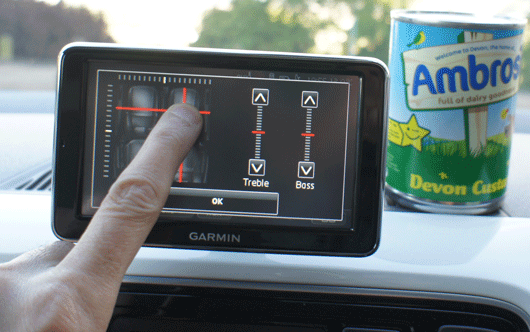 You can tell the audio where to position the sweet spot for the music