Vodafone Australia's 'doubles user traffic' on free weekend
Wow. A whole EIGHT KILOBITS PER SECOND per user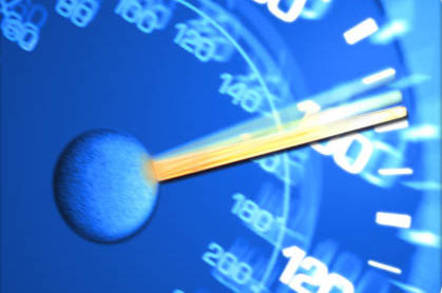 Vodafone has unintentionally exposed the miserly behaviour of Australian mobile data users, while hyping data usage over the "free data weekend" it declared to apologise for network outages. It turns out that punters hammered the network with a stunning eight Kbps per user.
The Sydney Morning Herald reports that Voda customers "consumed a record-breaking amount of data" over the weekend.
As the story states: "Between midnight Friday and 3:00AM Monday, Vodafone said its customers consumed 590 terabytes of data nationally - twice as much compared to the weekend before. In layman's terms, consuming 590 terabytes is the equivalent of downloading roughly 98 million songs or streaming 393,333 movies.
"Customers in NSW consumed the most data, followed by Victoria, Western Australia, Queensland, South Australia and Tasmania. The busiest time on the company's network was Sunday at 8.30PM AEST, with 4500 gigabytes of data being carried across its network every 15 minutes, Vodafone said."
It's an interesting set of data, once you start to unpick it.
Let's start with "4500 GB every 15 minutes". Big, isn't it? – Except that this works out to just 40 Gbps of traffic across the whole network.
It's really not unusual for a network with 4.96 million customers to generate 40 Gbps of traffic. The real surprise is that those customers didn't generate more traffic: across the whole Vodafone customer base, 40 Gbps is only eight kilobits per second of traffic.
We can do better, however. We know from the company's financial results that there are 819,000 3G broadband customers, 2.7 million customers using data on their phones (the company doesn't yet break out 4G user numbers in its data).
That gets us up to 11 Kbps per user on a free weekend. The ABS data on fixed broadband usage suggests to Vulture South that the DSL-cable-fibre customers, on the other hand, average about 150 Kbps across the country.
And that, according to what Vodafone told the Sydney Morning Herald, is double what users usually consume – let's call it a grand 4 – 5.5 Kbps per user, and network-wide, 20 Gbps.
All of which, as Twitter user and experienced ISP network expert Mark Newton (@NewtonMark) put it: "Voda Australia has just learned that their cost of supply for unlimited data is a rounding error. Why have a limit at all?"
Voda Australia has just learned that their cost of supply for unlimited data is a rounding error. Why have a limit at all?

— Great Big Newt Tax (@NewtonMark) June 23, 2014
In fact, "why charge separately for data at all?" is probably a question Australians should be asking all our mobile carriers. ®
Sponsored: Minds Mastering Machines - Call for papers now open