KA-BOOOM! Boffins blow up mountain to make way for telescope
Not just Large – Extremely Large Telescope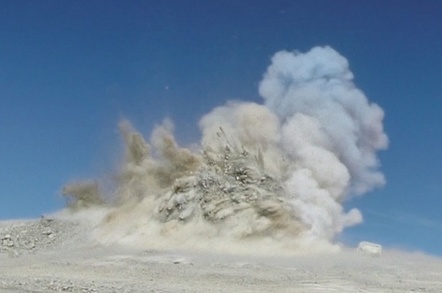 Work has commenced on the European Extremely Large Telescope (E-ELT), the 40-metre-class 'scope that will sit atop Chile's Cerro Armazones mountain and collect thirteen times more light than any comparable instrument.
The project almost started with a bang: this video starts with plenty of tedious speeches before, at about the one hour and fifteen second mark, a countdown commences before an explosion is seen atop Cerro Armazones. That bang is the result of actual explosives beginning works to level the ground on the summit in readiness for the 'scopes construction.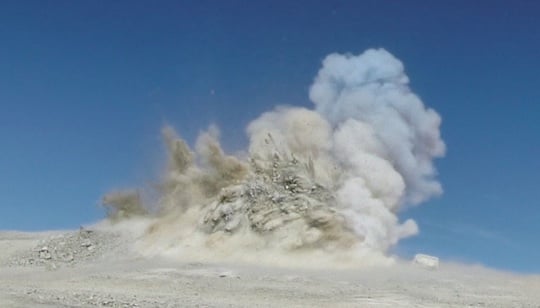 Thar she blows! Cerro Armazones is levelled to make way for the European Extremely Large Telescope
Yesterday's blast was the first of many:  220 000 cubic  metres of rock need to be removed before the 150 metre by 300 metre platform upon which E-ELT will rest can be constructed. Then comes "laying and maintenance of a paved road, the construction of the summit platform and the construction of a service trench to the summit," efforts expected to take 16 months.
There's years of work to come after that, with the scope's expected to see "first light" in 2024.
When operational, the E-ELT's 3000m eyrie and Chile's remoteness and advanced optics are hoped to deliver images 16 times sharper than those gathered from the Hubble space telescope.
E-ELT's price tag is expected to be a tick over a billion euros, or about 1.4 Instagrams, and is being met by Austria, Belgium, Brazil, the Czech Republic, Denmark, France, Finland, Germany, Italy, the Netherlands, Portugal, Spain, Sweden, Switzerland and the United Kingdom. ®
Sponsored: Minds Mastering Machines - Call for papers now open