NetApp gives its FAS range a 4 MILLION IOPS dose of spit'n'polish
We make that a full range makeover in just five months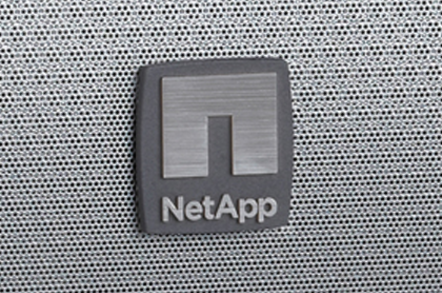 As we foretold in May, NetApp has completed the revamp of its unified storage FAS arrays with FAS2500s at the low-end and a monster FAS8080 EX at the top.
We got the basic details, except for the FAS 8080 which has 36TB of (Virtual Storage Tier) flash and not the 18TB we thought. Apart from that it has up to 5.76PB of capacity from 1,440 disk drives, and replaces the previous top-end array, the FAS/V-Series 6290. It can scale up to 69PB through clustering and handle 600+ IO connections. This is a big mother.
Just a quick point about scale-out: the FAS8080 EX can scale out to 24 nodes (12 high-availability pairs) with file access but only 8 nodes (4 HA pairs) with SAN access.
The separate V-Series goes away as a hardware box, with its software now incorporated in Data ONTAP.
At the low-end the FAS2520 replaces the 2220, the 2552 replaces the 2240-2 and the 2554 replaces the 2240, completing the removal of the mid-range FAS3200s – the FAS3250 having been replaced by the FAS8020 in May.
The main FAS2500 speeds and feeds:
FAS2520 - 4TB flash, 84 drives, 336TB
FAS2552 - 4TB flash, 144 drives, 518TB
FAS2554 - 4TB flash, 144 drives, 576TB
NetApp says the FAS2500s, with the 4TB of flash, can "accelerate workloads by up to 46 per cent and increase usable capacity by 48 per cent."
The entire FAS hardware range has been refreshed in just five months and us now characterised as hybrid flash+disk or, with the FAS8000s, all-flash, if users configure them that way.
The FAS8080 EX can perform at around 4 million IOPS and more than 4.6PB of capacity if configured with only flash drives. As a hybrid array its flash cache amounts to almost 0.5PB. There is a NetApp All-Flash FAS Reference Architecture for VDI.
The company says all-flash FAS arrays are suited to workloads needing both high-performance and low data access latency. If customers don't require the rich data management features of ONTAP then NetApp says the all-flash EF-Series aeries are high-performers too, faster the all-flash FAS we understand.
Its OnCommand Insight management software "enables storage cost management, rationalisation, and optimisation of storage services" and there is a tailored offering, NetApp Services for OnCommand Insight, for customers deploying high-end FAS8000 systems across heterogeneous datacentres.
To encourage reluctant customers NetApp is offering a 90 day payment holiday to save while transitioning to these new FAS arrays.
You have to hand it to NetApp, it does a great job of refreshing is hardware and growing its arrays performance and capacity. The clustering provides scale-out while there is scale up within individual arrays. It will, no doubt, soon have the FlashRay all-flash array with high performance and middling data management features, positioned between all-flash FAS and the EF-Series with less data management software.
The company is now embracing the cloud storage world with Cloud ONTAP and also beginning to strengthen its object offering. In effect, as soon as an attractive new data storage silo comes along, an all-flash array, a 3rd-party array virtualisation function, and object storage NetApp either adds functionality to FAS or makes a targeted acquisition.
FlashRay is a departure from this as it is a complete in-house development of an all-flash array and not, as with Dell, HDS and HP all-flash arrays a facility inside a current array and inheriting all of its data management features. In that respect FlashRay will be unique, as NetApp's other all-flash array competitors either bought technology in - Cisco, EMC and NetApp - or are startups - Kaminario, Nimbus Data, Pure Storage, Skyera, SolidFire and Violin Memory being the main ones.
All in all, NetApp does a good job of making it relatively easy and simple for its customers to stay with NetApp and extend their use of its offerings. ®
Sponsored: Minds Mastering Machines - Call for papers now open