Wedding tackle started out as PROTO-SHARKS' LEGS, boffins say
Cut me off at the knees and call me a tripod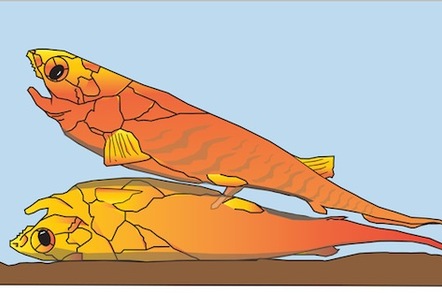 Researchers from Australia and the UK have taken a look back over the fossil records of placoderms - an early type of armoured fish - and come up with a startling suggestion: some of the earliest male genital organs known to palaeontology started out as a kind of "legs".
Well, not quite legs, since placoderms were aquatic: rather, what the researchers have concluded in their study was that their organs, referred to as "claspers" because of the creatures' reproductive habits, started out as paired appendages rather than (as in sharks), modified single fins.
Placoderms were predators – the world's first megapredators, two of the researchers (Flinders' John Long and Curtin's Kate Trinajstic) explain at The Conversation, here. They existed for 70 million years, becoming extinct 360 million years ago, and the largest reached the size of a modern great white shark.
They're also the earliest creatures known to have evolved copulation (instead of spawning into the water), which adds spice to the interest science shows in them.
It's the detail of that copulation that the researchers, from Curtin University, the Western Australian Museum, Monash and Flinders Universities, the Australian Synchrotron, and the Natural History Museum in London have drilled into.
What they've found challenges the long-held assumption that male sex organs' evolution broadly mirrored that of the shark, in which a fin evolved to become the clasper that impregnated the female.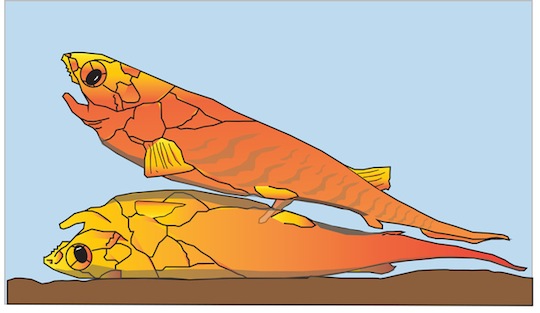 Placoderms' probable mating style. Image: John Long, Flinders University
"Unlike the claspers of modern sharks and rays that are a part of the paired pelvic fins, the claspers and female basal plates in placoderms were not at all connected to that fin," Long and Trinajstic write. "Instead they developed as an extra pair of limbs further down the body."
Further: "The claspers in placoderms can now be regarded as a serial homologue or gradual development of the other paired appendages - an extra pair of legs, so to speak." ®