AT&T: We will right many of world's wrongs if allowed to slurp DirecTV
Telco stops just short of promising free cute li'l kittens to subscribers in FCC filing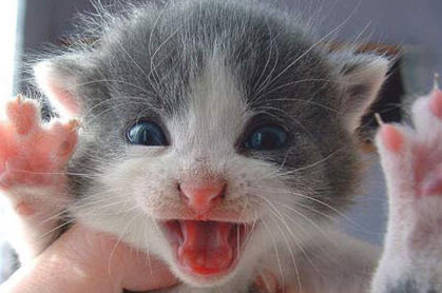 AT&T says that it will expand its broadband network, promote net neutrality, and clean its room every single day if the US Federal Communications Commission approves its bid to acquire satellite-television firm DirecTV.
The company said in a filing to the commission that should the $49bn mega-deal go through, the company will seek to expand video services for its own subscribers while also to provide bundled internet and video services to DirecTV customers.
Additionally, the US telco giant said that it would be better able to compete with cable giants Comcast and Time Warner should it get the DirecTV service and its subscriber base to bolster their U-verse TV platform, which the company says is ill-suited to compete with the cable giants. Should the merger go through, AT&T suggested users will see "downward pressure" on prices – though the firm stopped well short of promising a price cut.
"Econometric analysis confirms that, even before efficiencies are considered, the combination of AT&T and DirecTV will create a pro-competitive, integrated bundle of video and broadband services that provokes a beneficial competitive reaction from cable and results in a demonstrable overall net benefit to consumers," AT&T argues.
"Then, when the significant and merger-specific efficiencies resulting from this transaction are considered, as they must be, the outcome reveals even greater benefits for consumers."
The company also rehashed its vow to expand its network coverage, claiming that should the deal go through, they would be able to offer wireless local-loop broadband of 15-20Mb/sec for 13 million new customers in rural markets.
To further sweeten the pot, AT&T is also offering to get on board with the commission's net neutrality plans. The company said that should the merger go through, for at least the next three years it will adopt a policy which adheres to the FCC's 2010 Open Internet decree, even if the commission decides in the meantime to adopt less-stringent regulations.
AT&T also offered to maintain the existing standalone DirecTV satellite service and standalone broadband plans for three years after the deal closes.
The filing comes as the FCC kicks off its open comment period for the merger. The comment period, a standard part of the approval process, allows outside organizations and individuals to say their piece on the deal before the commission decides to approve or deny the merger.
In 2011, the failure to win approval from the FCC helped to torpedo a proposed merger between AT&T and T-Mobile. ®
Sponsored: Learn how to transform your data into a strategic asset for your business by using the cloud to accelerate innovation with NetApp