Psst. We've got 400Gb/s Ethernet working - but don't tell anyone
In the future you'll be able to stream ALL THE FILMS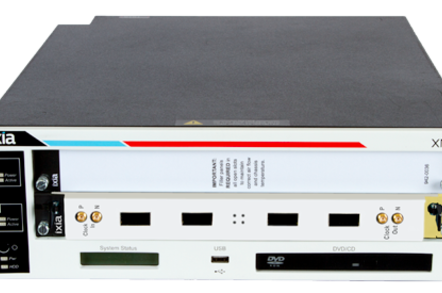 Californian company Ixia has shown what it claims is the the world's first functioning 400Gb/s Higher Speed Ethernet test rig, based on the IEEE P802.3bs protocol. The company says that this bandwidth is sufficient for 50,000 simultaneous high definition Netflix video streams.
The 400GbE Jumpstart Test system provided wire rate packet generation/reception at 400Gb/s and has successfully completed the industry's first 400GbE interoperability test with Ciena, which makes open, programmable networking platforms and software.
As we previously reported, 400Gb/s is the next step between 100Gb/s and a terabit. The standard is expected to be ratified in Q1 2017.
There is no BS in IEEE P802.3bs
Thananya Baldwin, senior director of strategic programmes at Ixia, told El Reg: "The 400GbE Jumpstart Test System was designed to help network equipment manufacturers stay ahead of the curve on the development of next-generation networking technologies. In order to meet the demands of their customers, these companies must begin the development early so that by the time the standard is ratified and the migration to 400GbE begins, their products are effective and reliable."
The Ixia 400GbE Jumpstart Test System is a developer tool kit designed to help network equipment manufacturers shorten development and test time, accelerating pre-standard 400GbE networking hardware. It uses Gen 3 CFP-4 connectors with four pairs of fibres.
The firm said the Ixia system would allow those customers to create, test and verify the interoperability of their next Higher Speed Ethernet technologies ahead of ratification of the IEEE P802.3bs protocol.
Key features of the 400GbE Jumpstart Test System include wire rate packet generation at 400Gb/s, below the minimum and above the maximum Ethernet frame sizes, meaning the spectacular claimed performance figures are not just for the lowest speeds.
With increasing backhaul pressures on mobile phone networks that will want to stream large numbers of 4K video streams to subscribers, the bandwidth for each level of infrastructure matters.
The current 100Gb/s standard is holding up reasonably well, although Ixia says there are some networks where multiple connections are aggregated for most purposes. Existing kit is sufficient, however we know that demand will increase and networks will have to adjust to cope. The Ixia kit is interoperable with existing speeds.
While 400Gb/s is still years away, Ixia believe that beyond this will be another quadrupling to 1.6Tb/s ®