Networked mutant flash-disk beast Nimble to smack flashy rivals with 'high-end' boxen
Fellow upstarts, behold: It's a Tegile-type effort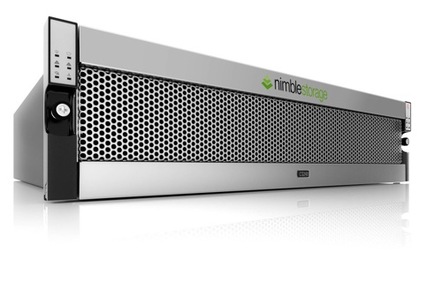 Nimble Storage is going to do a Tegile and have all-flash shelves in a new high-end product that will also undercut its main rival, fellow all-flash array startup Pure Storage, or so it claims.
Tegile and Nimble both supply networked hybrid flash/disk arrays using operating software expressly designed to use flash optimally, as well as disk, rather then having flash-using software bolted onto an operating system for a disk drive array. The idea is to provide data access speed close to that of an all-flash array with the capacity of a disk drive array.
Recently Tegile announced an uprated product with an all-flash option and pricing as low as $1/effective GB – that's capacity after data reduction has been applied. Pure offers a $3-$4/effective GB price.
CEO Suresh Vasudevan gave the game away at a financial analyst meeting. Jason Ader of William Blair wrote:
New high-end platform sounds promising. Management previewed its high-end platform (the formal launch is scheduled for Wednesday, 11 June), noting that the platform will deliver performance similar to all-flash arrays, such as Pure Storage, at roughly half the cost. The platform will use newer, more powerful CPUs and will deliver roughly 3 times the write performance and 10 times the flash capacity of the company's existing platform. The platform is expected to boast 500,000 IOPS from a 3U appliance with a higher flash-to-disk ratio, combined with the availability of all flash disk shelves, and we expect Fibre Channel support to follow shortly.
The current top-end box is the CS460 with 35TB of raw disk capacity, giving 25 - 50 TB of effective capacity. There is 1.2 to 2.4TB of flash storage. With up to three 45TB disk + 600GB flash expansion shelves the max effective disk capacity is between 125TB and 249TB. Nimble says in its tech specs: "Raw and effective capacities are calculated using Base 10 (ie, 1 TB = 1,000,000,000,000 bytes) after excluding space for parity, spares, and system overhead; the range represents 0 to 2x compression."
The new box should feature up to 24TB of flash inside the 3U appliance and more with all-flash expansion shelves. The pricing claim indicates a potential $1.50 - $3.0/effective GB level.
Vasudevan also contrasted Nimble with competitors Tintri and Tegile. Ader reports: "Management noted that ZFS-based Tegile uses a classic data-tiering architecture that gives Nimble a cost per performance advantage while VM-focused Tintri offers good cost per performance but has higher-cost capacity because it is a flash-centric system with less file-system-level HDD data layout functionalities." ®
Sponsored: Minds Mastering Machines - Call for papers now open