Frikkin' laser beams on its head: Formlabs announces Form 1+
Not quite Star Trek replicator yet... but they're paying for it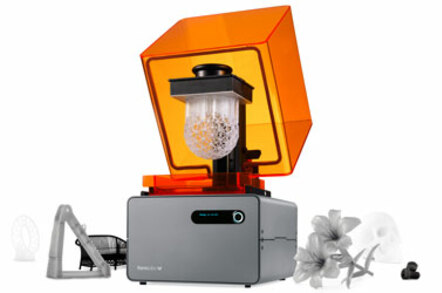 In the world of 3D printers, the pricey Form 1 is the equivalent of a Mac in a PC-dominated realm. Owners of the original Form 1 printer are now being offered a $749 (€599) factory upgrade where the printer is taken back to base and has a new laser, peel motor, driver board and other components fitted.
The vast majority of desktop printers use Fused Deposition Modelling (FDM) which squeezes molten plastic out of an extruder, whereas the Form 1 is the first low cost stereo lithographic printer. This uses a bath of acrylic resin which is hardened by a laser to produce the model.
Both new and upgraded printers both get a one year warranty. The machines' price remains the same at $3,299 (€2,799), available directly from Form Labs' website. This is a lot more than the initial Kickstarter price of $2,000.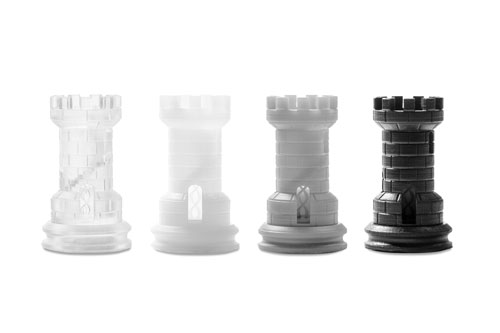 When the printer was launched there was only clear resin available
In addition to the new printer, Formlabs has a new black resin to join its existing white, clear and grey ranges. The firm has also established a European distribution line through the Express Group.
Like an FDM printer, the model is still built layer by layer, but the results are very much more accurate. The resolution of the laser is 150 microns and the platform can step in increments of 25 microns – yet the smallest feature the process can produce is 300 microns.
The specs are the same as the Form 1 but the galvanometer control system – a small mirror which directs the laser – has been redesigned, resulting in a much smoother finish. Indeed, it's common practice with FDM to expose the ridged plastic to acetone vapour to melt it smooth after printing.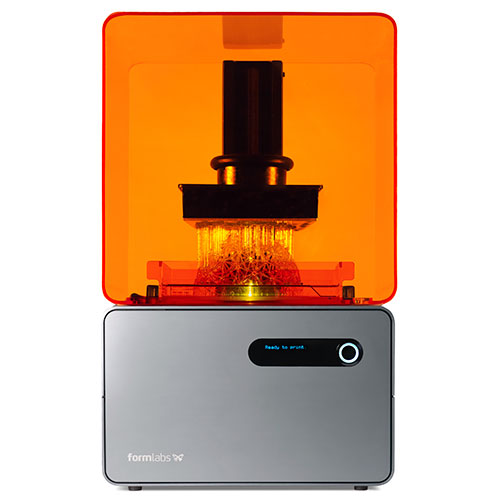 The first step to a Star Trek replicator?
The Form 1+ has a second-generation laser system that is four times more powerful than its predecessor, allowing it to print up to 50 per cent faster, and the Peel motor – which controls the stepping of the platform – has been uprated.
"The Form 1+ incorporates everything that we've learned in the past year," said Ian Ferguson, lead engineer at Formlabs. "We've given every part of the machine another look, updating it for better performance and reliability: a new laser, a new control system, and upgraded precision and quality for dozens of components."
Being sensitive to light, the resin can "go off" in the tank, so Form Labs have introduced a new light-blocking injection-molded resin tank – allowing resin to be easily stored. This is important because the resin is pretty expensive, at $125 (£75) per litre. Although that's still peanuts compared to printer ink, which works out at about £600 per litre. It's worth noting that the resin requires careful handling and isn't something you'd want around small children.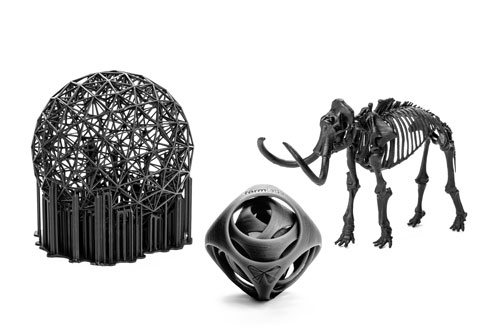 Now with extra smoothness
The new printer is being launched in London on Thursday night and we'll report back with a hands-on. ®
Sponsored: Minds Mastering Machines - Call for papers now open