Salesforce slings software for … sigh … wearables
My gum, it's THE THINGIFICATION OF SALES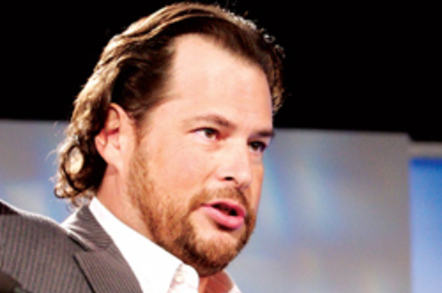 Salesforce chief Marc Benioff runs his business from his phone and is annoyed that his favorite hotels don't recognize him when he walks in the door.
With Salesforce Wear, a developer software scheme to link Salesforce's customer relationship management systems to data generated from wearable technologies, Benioff may finally be satisfied.
The new developer scheme was announced by Salesforce on Tuesday. It sees the customer relationship management and data specialist build a "Developer Pack" that makes it easier for developers to tie the data generated by and interfaces of computer-loaded wearable gadgets to its Salesforce1 software platform.
At launch, the Salesforce Wear Developer Pack supports Google Glass, Google's upcoming Android Wear, Samsung Gear 2, Myo, Nymi, and Pebble.
Salesforce thinks developers could use the pack to build apps that, say, tie a hotel's notification system into a Galaxy Gear 2 watch so that high-end guests can get a signal on their wrist when their bed is turned down, or food is being sent on its way, and so on. It would also give operators of places like theme parks or resorts a way to build identity services into a device they can hand guests, which lets them track them in the process – something many will surely find unnerving, but companies will sadly be rather keen on doing.
Though Salesforce's marketing around wear is trying to talk about benefits to developers, there's a clear business goal as well.
"The ultimate business model is to drive more adoption of our platform," explained Salesforce's senior vice president of emerging technologies, Daniel Debow, in a chat with El Reg. "The more identity flows we have on our platform, the more that's good for us, good for our customers. We've tried to make it even simpler to make the plumbing simpler for developers."
What Debow did not say, but which is clear to us after one bottle of gin and three hundred powerpoint slides is that with Salesforce Wear, Benioff and Co. are running hellbent toward The Thingification of Sales. ®
Sponsored: Minds Mastering Machines - Call for papers now open