HP unveils federated backup that won't get your back up ... it hopes
What happens in Vegas,
stays

... oh please tell everyone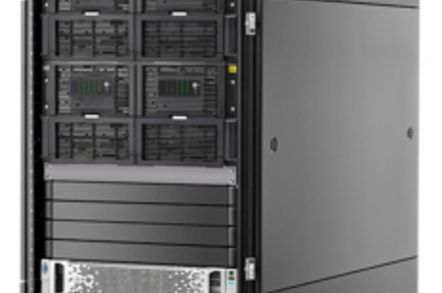 HP Discover Meg Whitman's mega firm is federating backup appliances to ease the pain of managing multiple silos and claims management overhead is reduced by 75 per cent through no more "physical mapping of backup jobs to individual backup appliances".
The news came at HP's Discover bash in Las Vegas, where it unveiled StoreOnce Federated Catalyst, Catalyst being its deduplicating backup software running on the StoreOnce backup-to-disk appliances.
The idea is to group a bunch of separate StoreOnce appliances into a federation offering a single logical pool of backup capacity that holds more than 17PB of data. The federation is used for provisioning and management of backup jobs, and HP says that work is then load-balanced across it using Adaptive Bidding and Adaptive Routing.
These are said to use workload-aware analytics and ensure "data is placed in the optimal physical location to maximise utilisation, backup and restore performance."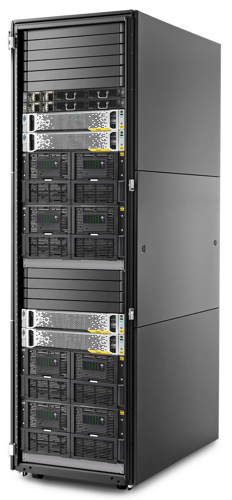 StoreOnce 6500
StoreOnce gets some other improvements:
Support for non-deduplicating data types alongside deduplicated backup stores
Increased scale for NAS-based backup
Deeper integration with HP Data Protector and third-party backup software
StoreOnce Integrity Plus to verify data can be restored as written without corruption
StoreOnce Security Pack to encrypt data in flight and at rest and provide secure erasure
There were other Backup product area announcements at Discover:
StoreEver ESL G3 Tape Library enhancements:

Archive faster, up to 268TB/hour assuming LTO-6 tape and 2.5:1 compression
Library capacity raised to 75PB
Data verification software
High Availability Control Path and Data Path Failover
Support for Key Management Interoperability Protocol compliant encryption key managers

HP Data Protector 9 backup management software now has single management dashboard with:

Adaptive intelligence
Analytical reporting
Rapid troubleshooting
Predictive capacity ability to forecast future capacity needs

HP also announced its AllianceOne Data Agile Partner Program for backup, recovery and archive (BURA) SW certification and promotion, whose members include CommVault and Veeam
The StoreEver MSL6480 High Availability Path Failover licence is $3,000. A Data Verification for ESL G3 100-cartridge licence is $1,750. Both are available now. Federated Catalyst starts at $37,500 per couplet (pair of nodes configured for failover and autonomic restart) for the StoreOnce 6500 and will be available in July. Data Protector 9.0 starts at $1,238.00 and is also expected to be available in July.
Chris says:
The new backup federation technology is designed "to support aggregation across devices and even hybrid cloud environments," which The Register storage desk believes is a first for backup-to-disk boxes.
HP is taking a consistently different tack from EMC's Data Domain business, which offers a set of single boxes ranging from small to large, with no global deduplication. HP is amalgamating its backup-2-disk boxes into a single virtual resource with single-point management and provisioning.
We think there is a continued threat to the reselling deal with Sepaton for its high-end deduplicating backup-2-disk products. A search for "Sepaton" on HP's website reveals "No results found. Please try again." Nuff said. ®