GoDaddy to try to GoPublic – again – with $100 million IPO
Domain broker will look to enter the market after 17 years private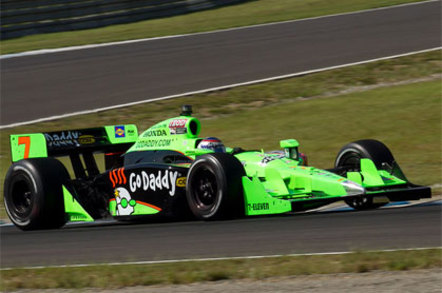 US-based internet domain registrar GoDaddy is planning to file an initial public offering (IPO) through which it hopes to raise as much as $100m.
The company on Monday filed documents with the US Securities and Exchange Commission (SEC) indicating that it plans to open its shares to the public later this year. Morgan Stanley, JP Morgan, and Citigroup were listed as the primary underwriters for the offering.
First launched in 1997, GoDaddy has risen to become the leading domain registrar, with some 12 million customers and 57 million domains under management as of December 31, 2013, according to its filing.
That means it manages around 21 per cent of the world's domains, and more recently it has branched out into providing e-commerce and hosting services for businesses.
Its IPO would mark the end of a 17 year run in which GoDaddy operated as a privately-owned firm, though not for lack of trying. It first tried to go public in 2006 – when it was hoping to bag $200m – but withdrew that offering when it couldn't get the price it wanted.
The company also announced on Monday that founder Bob Parsons will step down from his role as executive chairman of the board but will remain on as a regular board member. No replacement was named.
For most of its run, GoDaddy operated with founder Parsons at the helm as CEO. The outspoken and controversial Parsons turned GoDaddy into an internet giant as well as a lightning rod for controversy, with his ill-advised elephant hunts and marketing campaigns that often relied on racy photos and video of spokesmodels.
Parsons left the chief executive role in 2011 and the firm has since sought a more toned-down approach as it helped to lead the rollout of new generic top-level domains.
Despite the management shake-up, GoDaddy has seen its financials stay firmly in the red in recent years. In its SEC filing, the company reported net losses of $324m in 2011, $279m in 2012, and $199m in 2013. In the last quarter alone, the company said that it saw a $51m net loss.
In filing for its IPO, the company listed a number of risk factors it now faces. Among those was an ongoing effort to offer services outside of the US, where GoDaddy says it drew 23 per cent of its business last year, as well as efforts to better tune its products and services for mobile devices.
Other possible risks cited by the company were the threat of DDoS attacks and security breaches.
Further details on the IPO, including the share price and company valuation, will be reported as the firm nears its offering date.
IPOs have been a mixed bag in the technology market this year. While European games firm King fizzled in its market debut, the more recent successful IPO of Arista Networks suggests that GoDaddy can gain a strong reception in the stock market if the registrar can convince investors of its long-term viability and the hopes that shrinking losses and growing revenues will soon bring profitability. ®
Sponsored: Minds Mastering Machines - Call for papers now open