Compare Apple's and oranges: LaCie's hi-vis jacket-wearing disk is not for hipsters
And new Rugged drive costs a buck a GB in SSD form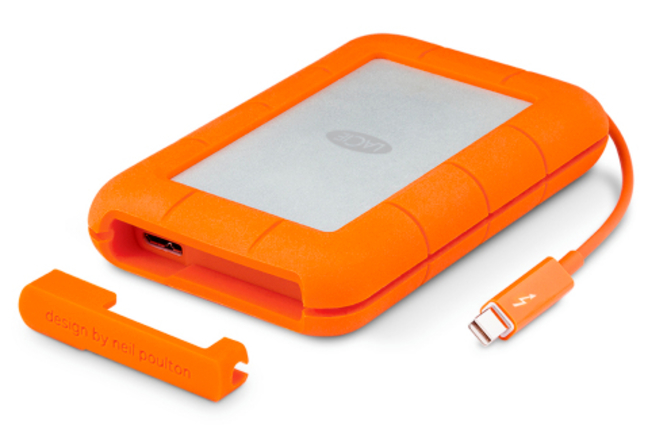 Fancy a drive in a high-visibility jacket so it never gets lost and can withstand knocks, scrapes and drops of two metres? Then LaCie's latest Rugged disk should be on your radar.
This is the first update of the Rugged line since Seagate bought the French hardware biz. The new drive was designed by Neil Poulton; minimalist Apple hipster chic this is not. This is for a photographer with Timberland boots and a no-nonsense-and-do-the-job attitude. Someone with street smarts when they're off the street.
So what's it got inside its fetching orange carapace?
A 2.5-inch disk holding 1TB or 2TB...
...or a solid-state drive holding 250GB or 500GB (and lots of empty space we suspect).
Thunderbolt and USB 3.0 connectivity. The Thunderbolt cable is neatly hidden in the jacket edge when not in use.
Bus power can come through either connects.
Up to 122MB/sec from the disk model.
Up to 387MB/sec from the SSD model.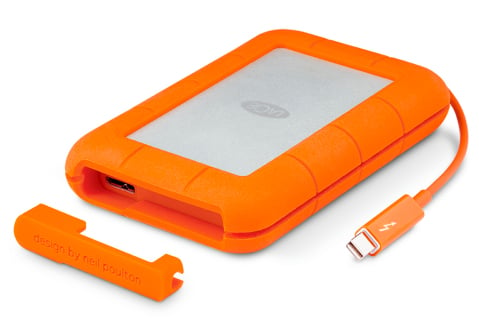 The Seagate LaCie Rugged drive
The SSD model is more vibration and shock-resistant than the disk version, as you'd expect. Data can be encrypted and decrypted using 256-bit AES in hardware on either model.
It's quite a pricy little number. Buy this Porsche Cayenne of external drives for $219.99 for 1TB or $299.99 (£224.99) for 2TB from LaCie resellers. You'll have to wait until early July for the SSD versions, priced at $299.99 for the 250GB version and $499.99 for the 500GB version; that's a dollar a gig. It comes with a three-year warranty in case that rubber hi-viz vest isn't all it's cracked up to be. ®
Sponsored: RAID: End of an era?