Fantastic fantasy four-way fling – and family-friendly fun
Just escaped a cave of dragons? This is what you've been missing
Werewolf world
As a Nord, I have been crafting lots of heavy armour at the blacksmithing station, as only medium armour seems to drop as twilight falls I love watching the glow of the furnace reflected on my scared and brutal face. Crafting provisions such as soups and beers is also worthwhile and a nice immersive feature of the game.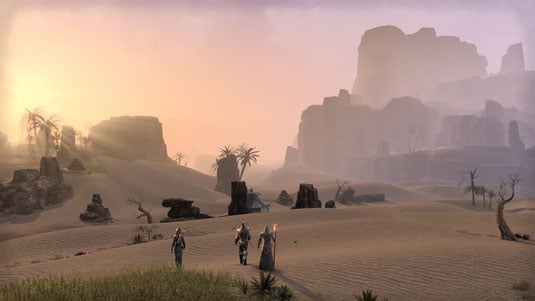 Scenes with different atmospheric colours adorn the gameplay
I ended my beta preview by saying this would be a totally different experience when a million players come online and it was refreshing to suddenly find so many players questing alongside me. Joining a guild is very easy and for PVO essential but if you don't want the commitment of a guild finding a PUG is just as simple to help out on those multiplayer dungeons, as I found out battling spiders in Spindleclutch.
The Alliance war PVP map is gigantic and especially so if you don't have a horse, so start saving your gold! There are missions to compete in Cyrodil, such as kill twenty players. However, getting assassinated by an invisible night blade every time I'm there, I have yet to kill anybody. Be warned: join a guild or get ganked.
Spin tactics: battling with a spider
ESO is not only beautiful incredibly atmospheric, the unpredictable shifting weather and the changing hues of the landscape by day and night are a feast for the eyes and there's even aspects of the game dependent on the cycle of the moon. This all adds to the feeling of discovery and exploration.
The most immersive and satisfying part of playing this game, and a great game mechanic, is levelling, as I discover each new town and its damsels in distress or priests in despair. I felt elated after stopping a werewolf infiltration at Aldcroft. Yet was careful not to get bitten on the full moon and avoided becoming a lycanthrope.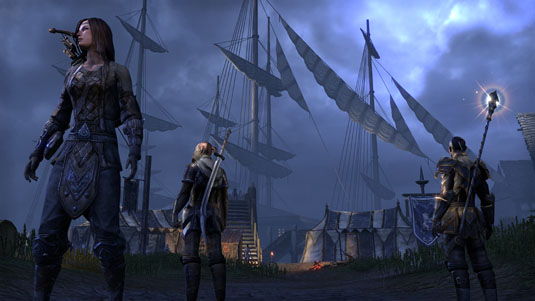 Watch dogs: is that a full moon breaking through the clouds?
The main quest line seems small in comparison to the rest of this game's almost overwhelming content. Fast travelling using way shrines to location I have discovered before and is convenient but I also picked some rewarding quests helping strangers by not doing this and taking the long road.
If ESO wasn't pay-monthly, I would recommend it to everyone, as it's a great addition to The Elder Scrolls franchise. For gamers to pay – and continue to pay – it would be great to see some kind of mod ability, although I'm not sure how this could be implemented in an MMO. Still, being able to mod my armour would be awesome, as one of my quibbles is that most players look very samey at the moment. Another annoyance is being spammed by gold sellers, which is always a drag, especially when they are prone to using caps lock. Fortunately, since writing this piece, I haven't been spammed in the last week.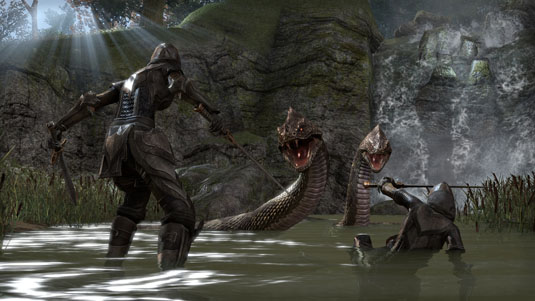 Snake charming
I am really looking forward to some friends and family investing in ESO, as I feel this will truly complete my experience in Tamiril, but dragging my sister away from farming purples on the Timeless Isle is going to be hard. Hopefully, in the next expansion, there will be added races and classes – once I get to the soft level cap of 50 with my Templar, I am looking forward to the chance to play an over-powered sorcerer. Suddenly, the wait for the new World of Warcraft expansion Warlords of Draenor doesn't seem so long.
Fantasy finale
There's enough gameplay with in these four games to keep me busy until the next fantasy title that I'm really looking forward appears: Mordheim, an epic turns-based game from Focus Interactive. A Warhammer fantasy spin-off, this game will be huge with giant rat men battling elves and other heroes of the empire. It's not exactly Necromunda but personally, I can't wait. ®
Sponsored: Minds Mastering Machines - Call for papers now open