Fantastic fantasy four-way fling – and family-friendly fun
Just escaped a cave of dragons? This is what you've been missing
Family friendly fantasy frolics
I play Aurora, a puckish, flame-haired princess of Austria, looking a lot like Studio Ghibli's Ponyo. Appearing to the world to be dead, Aurora travels like an apparition through the mystical surroundings of Lemuria. She is given the task of searching for the lost sun and moon in order to be returned to the despairing King.
The refined character models show great attention to detail and monsters swoop through the surroundings like threatening paper cutouts from a Lotte Reiniger animation.
Aurora floats around just like The Light Princess in the Tori Amos musical and this movement adds to the ethereal feeling of the game. The dialogue is recounted in poetry and prose much like a musical and the game benefits from Coeur de Pirate's brilliant otherworldly score.
Aurora is accompanied by a sprite named Igniculus, a small ball of blue flame – reminiscent of Calcifer from Howl's Moving Castle – that can be controlled by the right stick or a second player. Igniculus helps me to blind enemies, so I don't have to fight them or he slows the enemies in combat and heals me.
Burning ambition: Igniculus, the blue ball of flame, stays close to Aurora
I found that slowing down the enemies is key to combat. Meeting characters as I travel through Lemuria, such as happy and sad Pierrots and my favourite Robert the medieval archer mouse – straight out of Mouse Guard – are just a few of the honourable escorts.
Child of Light's turn-based combat is the weakest part of this game. Albeit interesting and based on a time bar – where you can knock back your enemies chance to attack – it can stretch out for a considerable length of time. I can imagine players of a younger age getting bored with the constant to and fro.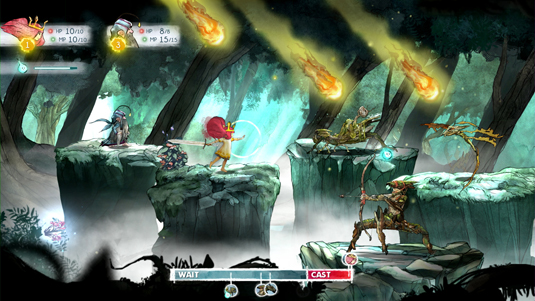 Fireball combat – click for a larger image
Switching characters for the best kind damage against different enemies is vital. I had an especially long battle against a Griffin and to shadow women, that seemed it would never end until I swapped into the right character. I found the puzzles diverting and enjoyable, such as moving light and shapes onto the correct symbols to open a door, and Aurora entering a school room and giving the teacher an apple in exchange for a shovel, but where to dig? (no spoilers).
This is a game that has had some significant feminine input from the likes of Brie Code, the Ubisoft lead programmer for Child of Light. The result is an all-round female friendly fantasy game that's also an innovative piece of art. Some might argue that the game play is secondary to the aesthetic but I disagree, as I feel they make a diverting combination.
Bricks and clicks
Universal appeal is prevalent in the comedic fantasy revelry embedded in LEGO: The Hobbit, and making me snigger is something Travellers Tales does splendidly. When I was about seven, my dad would force us to go camping in Scotland and to soothe the midge bites at night my sister would recite The Hobbit from memory. This is the level of dedication my family has to Tolkien.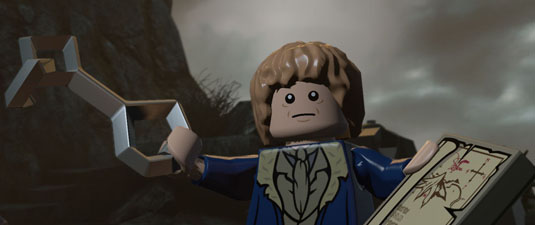 OK girls, sit down and I'm going to test you reading The Hobbit from memory
The basis of my lifelong love of everything fantasy stems from this introduction to the world of middle earth and The Hobbit deserves a decent gaming adaptation. The Peter Jackson films continue to do justice to this awesome source material and I'm glad to say Travellers Tales has produced one of the best LEGO games so far.
Sponsored: Minds Mastering Machines - Call for papers now open