Samsung's 'OS of Everything' Tizen still has little to offer
Much talk yet few devices at this year's Tizen dev conference
Devices galore ... someday
Conference attendees didn't get the Z as a freebie, either – although they did get a Gear 2 smartwatch and an Intel NUC (Next Unit of Computing) to develop Tizen apps on – but there were plenty of units on display for them to play with. Your Reg hack poked around with one and found it to be a responsive smartphone with a competent, if unfamiliar, UI.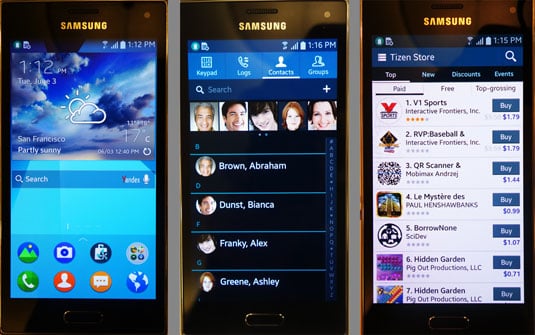 Here's a first look at the UI of the Samsung Z, the first commercial Tizen phone (click to enlarge)
Yet that very unfamiliarity is likely to remain Tizen's greatest challenge. For all its strengths as a smartphone platform, it isn't Android. Much like BlackBerry and Windows Phone, it's going to have a hard time convincing customers that it will catch up with Google's platform – or, for that matter, iOS – anytime soon. And Tizen faces competition in the other markets to which it aspires, too.
Nikon makes cameras based on Android, but other vendors seem content with their own, proprietary software, and these days most folks take snaps with their phones, anyway.
Ford Motor Company has turned to Microsoft for its in-car systems in the past, but BlackBerry-owned QNX – a real-time OS that was purpose-built for industrial and embedded systems – might be a better choice, and it's already used by several automakers.
Samsung's Tizen-powered smartwatches are billed as "companion devices" that aren't good for much unless they're paired with a Samsung smartphone (and only recent ones, at that). Meanwhile, LG, Motorola, and others are reportedly preparing to ship smartwatches based on Android Wear, a shared platform that's compatible with any Android mobe.
Today's so-called smart TVs could use more smarts, but there's not much to suggest that the industry will rally around Tizen. LG, which trails only Samsung in this market, reportedly bought HP's webOS for use in its boob tubes.
Soon?
And while Tizen's new Open Smart Home Project sounds good – Choi billed it as "smart home services, monitoring and controlling the functions and devices and features within your home and on your body, all together, connected, while you are at home or while you are remotely away halfway across the globe to the other side" – Apple's prestige in the consumer electronics market might make its recently-announced HealthKit and HomeKit initiatives more attractive to device makers.
Apple's plans also sound a little more, shall we say, concrete. Samsung so misjudged its ability to deliver Tizen-powered smartphones that its previously announced carrier partners all bailed on it after repeated delays. The Korean firm now plans to launch the Samsung Z exclusively in Russia later this year, and it's still trying to find other countries willing to take the thing.
Similarly, while there was much talk about Tizen 3.0 at this year's conference, it's clearly still a work in progress. With the current version of the OS, there's still considerable fragmentation between the versions used by different industries; Tizen IVI diverges from Tizen Mobile in substantial ways, for example. Unifying the branches is a laudable goal, but a lofty one.
It's true that Tizen is here, now. We have cameras, watches, and now a phone to prove it. But at the rate that it's going, where it will be tomorrow remains an open question. ®
Sponsored: Minds Mastering Machines - Call for papers now open