Brazilian whacks fast pipes on racks – and more in our student video special
We interview cluster newbs fighting for glory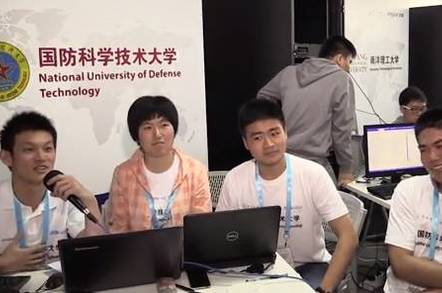 HPC Blog Welcome to the second batch of video profiles of the sixteen university teams competing for supercomputing glory at the ASC14 student cluster-building competition.
China's NUDT (National University of Defense Technology) is another team that could take home the ASC14 cluster crown and cash. (There's no real crown, but there is a nice pile of cash waiting for the winning teams – see here for details. Undergrads basically race against the clock to build HPC rigs to tackle various apps and benchmarks, with awards for the best teams.)
NUDT has earned a solid reputation in these competitions over the years. They've finished second at two ASC events and also at SC11. They've also taken home the highest LINPACK award at ISC12 and SC12. But this year, NUDT is setting their sights higher.
In the video interview, above, we talk about how the team is focusing much more on the applications this year. We also talk about their cluster, using GPUs, and how they tuned the apps.
Team Brazil (University of Sao Paulo) is the first team from Brazil, and South America, to compete in a major cluster competition. In the video, we learn about the profound impact that Infiniband has had on the students ("we drank toasts!") and their system configuration.
When we're interviewing them, the team is having problems getting their system running efficiently (or at all). It's typical for first time teams to face these types of problems at the event.
Even though they've devoted months to learning how to run these applications on their systems at home, it's always different on the road. In this case, the team is using their competition system for the very first time and it's definitely a new experience for them. Some of it is great, like the miracle that is Infiniband, while other surprises, like not getting an app to compile, aren't so great.
But they're working hard and will definitely cross the finish line, even if not in first place.
University of Huazhong (HUST) hails from the Wuhan province in China. According to our interpreter Claire, Wuhan "is an OK province", which is good enough for me. This isn't HUST's first cluster rodeo; they won the BSDE Optimization at ASC'13 and took the LINPACK award at ISC'13.
According to the team, it's been fairly smooth sailing so far at ASC'14. While they've run into some problems, they aren't anything to sweat over. In fact, the team seems to be pretty confident in their chances as we talk to them in the video. We'll see what happens.
The last team for this batch of profiles is Zhejaing University. This is their first cluster competition and they're pushing hard to get everything running at the time of the video. They have one of the larger clusters, with 10 nodes, but no accelerators – so definitely an old-school approach.
As the students tell me, they might actually try to run even more nodes, but they're not sure how that will work within the 3,000 watt power cap.
In our next installment, we talk to teams from Shanghai, Singapore, Hungary (yes, Hungary), and visit with the home team, Sun Yat-Sen. ®
Sponsored: Learn how to transform your data into a strategic asset for your business by using the cloud to accelerate innovation with NetApp