Monster croc 'the BALROG' tussles with mighty Titanoboa snake
You shall pass ... straight down my throat where I can digest you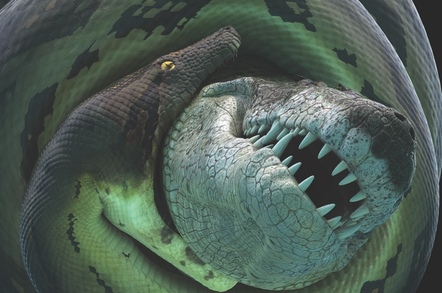 Pic A mighty ancient croc that battled monster snakes has been named after the mythical creature of the deep that was nearly Gandalf the Grey's downfall – the Balrog.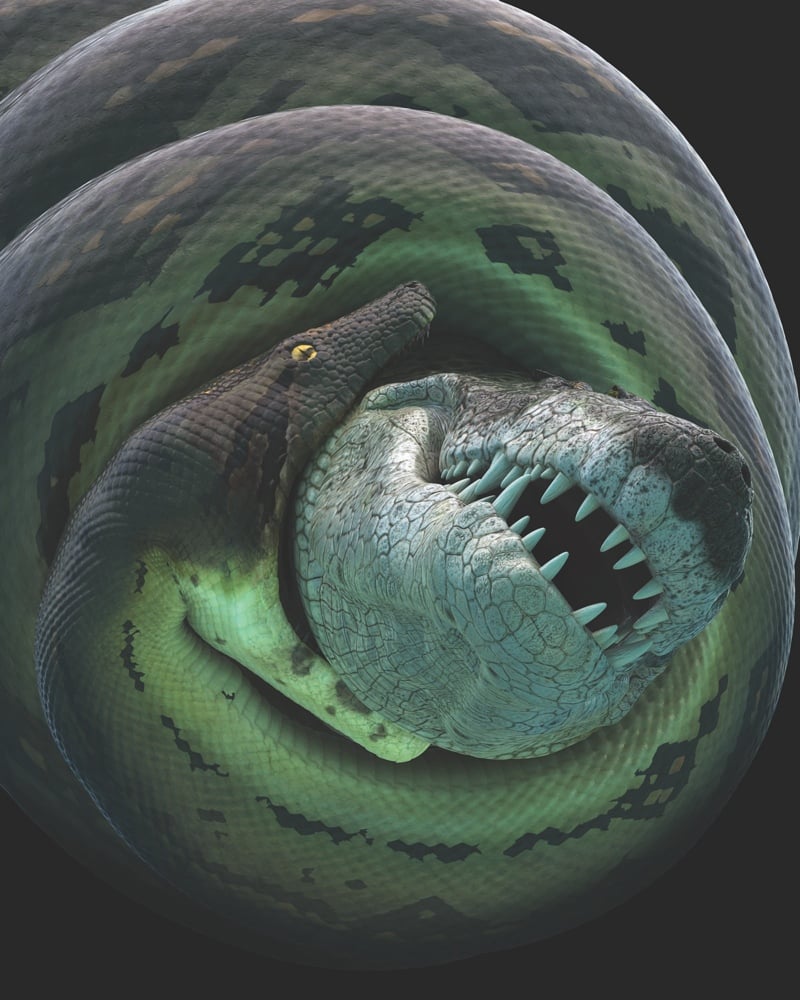 Titanboa constricts Anthracosuchus balrogus croc (Credit: Smithsonian Channel)
Just as the Balrog rose up from the inky depths of the Mines of Moria in Lord of the Rings, Anthracosuchus balrogus was discovered deep within a mine. And its fossil was chipped out of the same layer of rock where the remains of the ferocious ancient snake Titanoboa was found.
The Balrog brute was about 16 feet long and weighed in at 900 pounds when it swam the same rivers as Titanoboa 60 million years ago in the world's oldest-known rainforest, we're told. The Balrog had an unusually blunt snout and large jaw muscles unlike the rest of its family, the dyrosaurids, which would have given it an incredibly powerful bite.
"It quickly became clear that the four fossil specimens were unlike any dyrosaur species ever found," said Alex Hastings, a post-doctoral researcher at Martin Luther Universität Halle-Wittenberg and former grad student at the Florida Museum of Natural History. Hastings co-authored a paper, published in Historical Biology, about the beast.
"Everyone thinks that crocodiles are living fossils that have remained virtually unchanged for the last 250 million years. But what we're finding in the fossil record tells a very different story."
Anthracosuchus balrogus shows the early adaptability and diversity of tropical crocodyliforms. Paper co-author and Florida museum associate curator of vertebrate palaeontology Jonathan Block said the boffins were "stunned" when they first saw it.
"We couldn't believe it had such a boxy, short skull and that it was still a dyrosaur," he said. "It really busts the mould for these animals. It is such a completely different looking beast than we've seen for these crocodile-like animals."
The reptile is the third new species of ancient crocodilian unearthed from Cerrejon in Colombia, one of the world's largest open-pit coal mines. Originally from Africa, these ancient crocs swam across the Atlantic to South America about 75 million years ago and somehow managed to survive the extinction event that wiped out the dinosaurs.
"This group offers clues as to how animals survive extinctions and other catastrophes," Hastings said. "As we face climates that are warmer today, it is important to understand how animals responded in the past. This family of crocodyliforms in Cerrejon adapted and did very well despite incredible obstacles, which could speak to the ability of living crocodiles to adapt and overcome."
Despite how formidable the Balrog croc was, the giant snake Titanoboa was a much mightier beast – which is why a recent Smithsonian channel documentary showed it chowing down on the ancient dyrosaur.
"Every once in a while, there was likely an encounter between Anthracosuchus and Titanoboa," Bloch said. "Titanoboa was the largest predator around and would have tried to eat anything it could get its mouth on." ®
Sponsored: Minds Mastering Machines - Call for papers now open