VROOM! Intel revs Devil's Canyon monster 4x4 at 4GHz
Prepare to feel OLD as 20th birthday Pentium sees the sunlight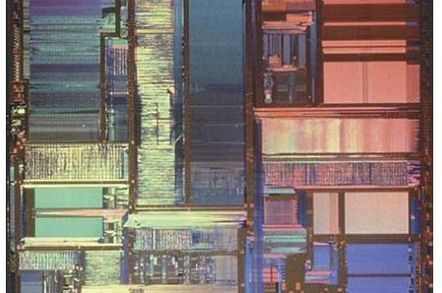 Computex Intel has take the wraps off its rumoured "Devil's Canyon" CPU and revealed it is a brutal four by four monster.
Each of the CPU's four cores run at 4 GHz, for starters. Overclockers can push the CPU beyond that to 4.3 or 4.4 GHz.
Either way, the CPU means Intel's gone back to emphasising grunt, after a decade or so of highlighting multi-core subtlety over "wow, that's fast" clock speeds. On this occasion, engineers were told to produce an eye-catching frequency to excite those who like their CPUs hot and speedy. Turbo Boost 2.0, the HD Graphics 4600 chippery and the small matter of 16 PCI Express 3.0 lanes also make an appearance.
Computex, where Intel formally announced the new chip, is a consumer-technology-focussed event. But enterprise buyers may find two items of interest in the launch.
One is something Intel is calling the "Next-Generation Polymer Thermal Interface Material" (NGPTIM), a coating for Devil's Canyon that is said to help it cope with the heat produced by higher frequencies without cooking either itself or the rest of a PC's innards. Lisa Graff, Chipzilla's PC Client Group veep and general manager of the Desktop Client Platforms Group, said she is not aware the new material is derived from any of Intel's efforts in the server arena.
There's nothing to stop it being picked up by that team, and evidence of Intel's willingness to collaborate among its groups is bountiful in the second item: the inclusion of its Rapid Storage Technology in the 9 series chipset also revealed at Computex.
That will mean desktop boards can take better advantage of solid state disks over PCI, rather than SATA. Workstation-users: you have some interesting possibilities emerging.
The dear old Pentium also received Computex makeover on the occasion of its 20th birthday. The Birthday Pentium hums along with two cores at 3.2 GHz, again tweakable, and will happily sit in either series 8 or 9 chipsets. So will Devil's Canyon, but it prefers a home in the newer design.
Overall, Intel feels PCs are coming back, at least a teensy bit. The demise of Windows XP has given sales a little kick and new form factors are giving punters a reason to revisit the devices. Intel's very keen on all-in-ones, be they desktop or giant portables that dock to recharge their batteries but can be schlepped around the house. Whatever the form factor, Intel is claiming its attention to detail on matters like power consumption will spur the market along, as less thirsty chippery translates into smaller and simpler power supplies it hopes will contribute to a drop in PC prices.
Very small form factor PCs are also on Intel's mind, as a way to make the PC less intrusive in the office or as the brains for all manner of intelligent gadgetry (digital signage is always at the top of the list).
Intel's always confident in public and on this occasion it's message is that there's life in the PC yet and much of that life derives from its efforts to make the devices more versatile. Chipzilla might just be right: ASUS' five-inch phone and the five-in-one Transformer Book V show it remains possible to do very interesting things on the PC platform and to take the tablet market in new directions on an x86 platform. ®
Sponsored: Minds Mastering Machines - Call for papers now open