Telefonica, Netronome jump into the NFV mosh-pit
More reference designs, hooray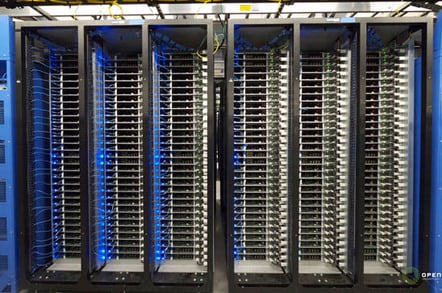 Yet more ants are flocking to the Network Function Virtualisation (NFV) picnic, with announcements of tie-ups and reference designs from Telefonica and Netronome.
Telefonica is jumping in with both feet, with a canned announcement of a project with Red Hat and Intel.
That project aims to create "a virtual infrastructure management (VIM) platform based on open source software running on standard Intel-based servers". The Spanish-headquartered telco's Enrique Algaba, who heads up Telefonica's research arm, told LightReading the company needs NFV "instantly", perhaps paradoxically since the project has a two-year timespan.
Telefonica's NFV reference lab will use Intel Xeon E5-2600 V2-based servers running Red Hat Linux, the KVM hypervisor, Red Hat's OpenStack implementation, and OpenFlow-based switching kit.
The lab will be opened to partners and equipment suppliers to let them test their NFV and service orchestration technologies. In a separate announcement, Telefonica, Intel and packet-optical SDN/NFV outfit Cyan have said they're working on orchestration software.
Netronome's NFV reference design, shown off at the TM Forum Live 2014 in Nice, France, was developed in conjunction with Service Mesh and PlumGrid.
Its demo, says the company's release, shows off "the use of a cloud orchestrator with OpenStack integration to provision a virtualised network topology while monitoring and enforcing SLAs via SDN-OpenFlow, across [a] legacy MPLS WAN".
That, Netronome says, shows its SDN stack operating all the way from the multi-tenant data centre out to a carrier IP/MPLS network.
NFV as TL;dr
For those unfamiliar with the term, Network Function Virtualisation refers to identifying operations that currently reside in custom silicon – and proprietary code – inside single-function devices, and handing those functions off to a generic (usually) Intel server outside the switch.
Right now, the customer has a deployment choice between buying One Rack to Rule them All and populating it with all manner of function-specific blades – the switches themselves, a firewall, a router, subscriber management, a RADIUS server, NAT and so on – or buying discrete devices.
The first option means your deployment is tied to your favourite vendor's release cycle, while the second can be a management nightmare. NFV re-imagines the stack: at the bottom are standard high-capacity switches and routers, but other functions are virtualised and deployed to high-capacity generic servers. ®
Sponsored: Learn how to transform your data into a strategic asset for your business by using the cloud to accelerate innovation with NetApp