Rejected researcher builds Facebook friends harvester
Fortress Zuckerberg says it's a feature, not a bug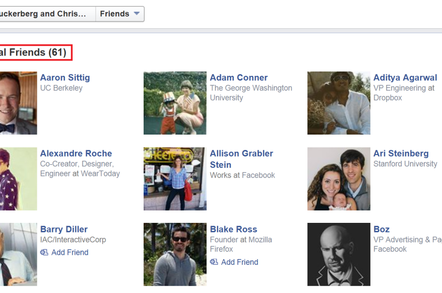 Mass harvesting of private friend lists is a feature, not a bug, according to Facebook which has rejected a bug report detailing a purported breach in site privacy.
The social network giant rejected a report by security researcher Shay Priel which demonstrated how attackers could use the 'mutual friends' function to view portions of a user's private friend list.
Priel reported Facebook's response:
Remember: Your friends control who can see their friendships on their own timelines. If people can see your friendship on another timeline, they'll be able to see it in News Feed, search and other places on Facebook. They'll also be able to see mutual friends on your timeline.
Mutual friends would be revealed from private lists by comparing two Facebook user profiles. It could only be locked down if all friends in a particular list increased the privacy settings on their profiles.
Priel, after being rejected by Facebook, published a tool to automatically harvest mutual friends lists which could aid attackers in building intelligence for targeted malware and phishing campaigns.
"I've decided to write a POC (proof-of-concept) tool that will prove how bad this vulnerability could be for anyone who wants to keep his or her friends list private," Priel blogged.
He added: "Maybe Facebook needs to change this configuration (Edit Privacy) item to 'Edit Display' or something like that, because this is actually what it is."
The tool created and dug through a "related list" of friends, identifying mutual friends and writing those to output file. ®