If you squint, Oracle is starting to look like a cloud company
Baby steps at the big red business that's batting at big data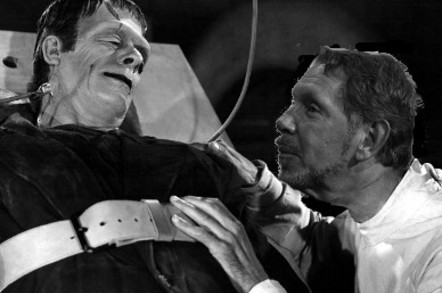 Oracle is waking up to the money-spinning possibilities of the cloud and has injected some powerful new capabilities into its "Oracle Enterprise Manager" software.
The latest version of the management software was announced by Oracle on Tuesday. It, like the rest of Oracle's modern products, is representative of the reinvention going on at the company as it wakes up to concepts such as multi-tenancy and cloud-based services that it used to decry.
New features in Oracle Enterprise Manager 12c 4 include a service catalog, a Java Virtual Machine diagnostic service for developers, faster software provisioning, a data warehouse for database performance info, and more.
For starters, the company has launched a service catalog that lets admins select the specific capabilities of a new database they want to be provisioned, such as high availability. While a cosmetic rather than a deep technical change, this type of feature has been present in clouds for a long time and has lessened the learning curve.
Taken together, the new features see the company combine capabilities customers could easily stitch together from a bevy of open source technologies, along with some of its proprietary capabilities as well.
Two other features stand out as being particularly useful for developers. One is the "JVM Diagnostics as a Service" component, which lets application developers test out pre-production apps for common problems in the JVM, like garbage collection or heap errors. This should help some companies spot underlying problems before they percolate up in production and cause a cascading fail.
"We try to use these upfront visualizations with selective drilldown to make it human consumable," Oracle's senior director for systems and application management Dan Koloski told The Reg. "Our approach with JVMD is we're trying to simplify wherever possible. We can essentially say to a less sophisticated consumer 'here's the way we would troubleshoot this problem'."
Oracle hopes that the JVMD service will get developers "used to the nomenclature of operating production JVMs," says Koloski.
This may help relieve some of the pressure on some of those poor developers who are employed by organizations to troubleshoot JVM-based issues in apps – a job akin to inviting Cthulhu into one's brain and then having to give Powerpoint presentations without taking breaks to eat kittens.
Another important feature in the release is a new "performance warehouse", [That's "Data Warehouse" to you and me.—Ed.] which takes Oracle "Automatic Workload Repository" data from a live database and shoves it into a warehouse where admins can run analytics on it to check for performance wobbles.
"That allows [AWR data] to be captured over a wide timespan and [you can] run analytics against it to do a wide amount of performance analysis," Koloski explained. "What we've done with the performance warehouse is taken those snapshots offline allowing them to be stored indefinitely. ... What we're doing is enabling administrations to do much more fine-grained analysis of the data."
These new features, and the others listed here, show that Oracle is waking slowly to the capabilities of more modern (and frequently cheaper) software tools.
The difference is the company's continued desire to be a one-stop shop for these capabilities. Its assumption is that by handling as much as possible in-house it can reduce complexity for its clients, many of which lack the IT budget internally to gin up their own mission-critical tech.
"Our goal is to leverage tight coupling engineered together to provide a solution that gets to value more quickly than alternatives," Koloski said. "It is worth allowing us to do the integration at the factory where possible." ®
Sponsored: Minds Mastering Machines - Call for papers now open