'GODZILLA WORLD' of the DRAGON CONSTELLATION - scientists
Mega-planet Kepler-10c not suffering from terrifying gas issues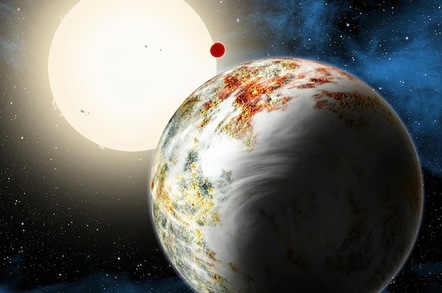 Pics Kepler-10c, dubbed the "Godzilla" planet by top international boffins, has a mass 17 times that of our planet - it has emerged this week - and orbits a star 560 lightyears away in the constellation Draco - the Dragon.
The Harvard-Smithsonian Centre for Astrophysics (CfA) announcement here has set reporters afire with the idea that Kepler-10c is "new". It's not: as this NASA announcement and this Arxiv paper demonstrate, 10c was revealed to the world in 2011.
At that time, however, while Kepler-10c's orbital period (45 days) and diameter (2.3 times Earth) were known, its mass hadn't been worked out – and when it was, it turned out to be a surprise. At 17 times Earth's mass, the exoplanet is surprising because it's still a rocky planet.
"Kepler-10c didn't lose its atmosphere over time. It's massive enough to have held onto one if it ever had it," says Xavier Dumusque of Harvard-Smithsonian, who led the data analysis. "It must have formed the way we see it now."
Standard theories of planetary formation would usually suggest that something as heavy as Kepler-10c would grab hydrogen and become a gas giant like Jupiter. As well as the size being a surprise, the system that Kepler-10c shares with the much smaller and faster (with a 20 hour orbit) Kepler-10b is very old, at 11 billion years.
Such old systems, formed just 3 billion years after the Big Bang, would much more commonly hold gas giants since the heavier elements only formed when first- and second-generation stars exploded. So Kepler-10c pushes back the age of exoplanets that could be considered as possible hosts of life.
"Finding Kepler-10c tells us that rocky planets could form much earlier than we thought. And if you can make rocks, you can make life," says Dimitar Sasselov of Harvard-Smithsonian.
The latest paper on the "mega-Earth" is at Arxiv, here.
A monstrous appetite
Kepler-10c wasn't the only bit of exoplanet excitement to come out of the American Astronomical Society get-together: there's also a star that's going to swallow two of its planets within a mere 150 million years or so, and bad news for life-seekers about red dwarf systems.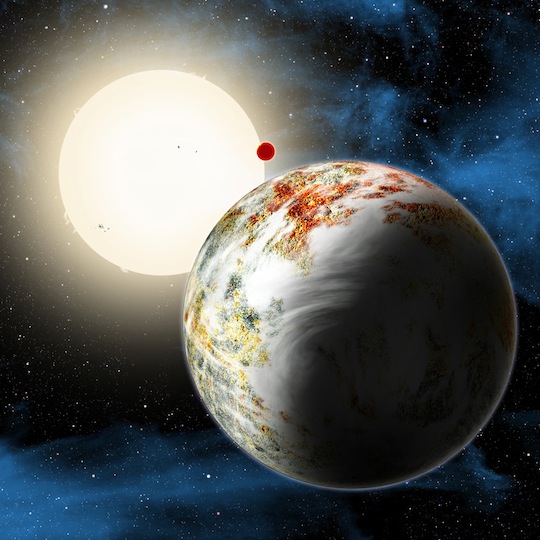 Artist's impression of the Kepler-10c system, David Aguilar, CfA
Over in the Kepler-56 system, in the constellation Cygnus, there are exoplanets that are way too close to their sun to have a long life ahead of them, at least in astronomical terms.
Both Kepler-56b and Kepler-56c are much closer to their star than Mercury is to the Sun, with orbits of 10.5 days and 21.4 days respectively. That means it won't be long – just 130 million years and 150 million years respectively – before the swelling star they circle gets too close for comfort.
CfA's Gongjie Li, who worked out the planets' future, says it's the first time two planets in an exosystem have a predicted "time of death".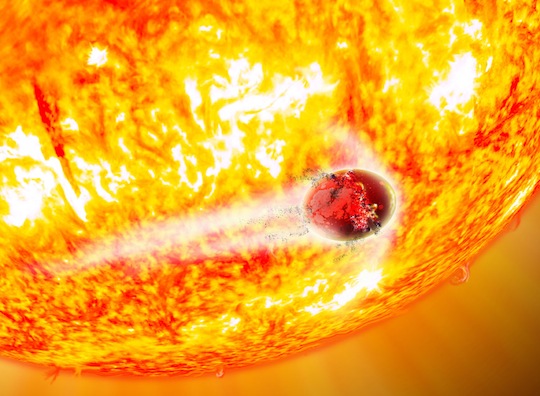 C'mon baby, light my fire: death of an exoplanet
Artist's impression by David Aguilar, CfA
And it's not going to be pretty or comfortable, she says: first, the expanding star will heat the planets, boiling off their atmospheres, while increasing solar tides will stretch the planets into egg-shapes. Finally, they'll get swallowed by Kepler-56, leaving only the much more distant Kepler-56d still safe.
Red dwarfs unlikely candidates for habitable planets
The other discovery CfA was touting at the conference is bound to be something of a disappointment for ET-hunters everywhere: red dwarfs, the most common type of star in the universe, aren't a good place to look for life.
According to CfA's Ofer Cohen, planets in the "goldilocks zone" of red dwarfs are likely to face extreme space weather that Earth doesn't suffer.
The problem is this: because these stars are cooler, for example, than the Sun, the "habitable zone" where water can exist as a liquid is going to be much closer. That, however, means the planet will be subject to space weather that would look apocalyptic to Earthlings.
Using computer models from the University of Michigan, Cohen's team looked at three known red-dwarf planets circulating what CfA calls "a simulated, middle-aged red dwarf".
The announcement goes on: "they found that even an Earth-like magnetic field could not necessarily protect a habitable-zone world from the star's continuous bombardment. Although there were moments when the planet's magnetic shields held firm, it spent far more time with weak shields than strong shields."
While someone standing on such a planet would see very spectacular aurorae stretching from the poles to halfway to the equator, "we'd also be in constant darkness because of tidal locking, and blasted by hurricane-force winds because of the dayside-nightside temperature contrast", Cohen said.
Cohen's paper is at Arxiv, here. ®
Sponsored: Minds Mastering Machines - Call for papers now open