IBM, HP, others admit products laced with NORK GOLD
That high-pitched screaming your fan makes? It's not the fan.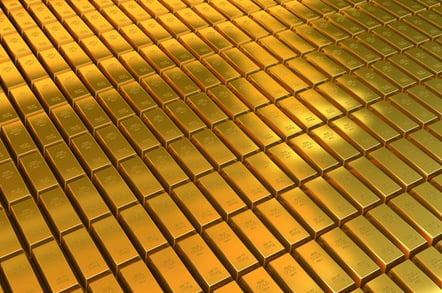 IBM, HP, Seagate, and other companies have admitted that some of their products include gold from North Korea.
The companies disclosed in recent financial filings – first spotted by Foreign Policy – that some of their suppliers sourced gold from the "Central Bank of the DPR of Korea", according to filings with the US Securities and Exchange Commission.
The companies made these filings in response to a new reporting rule aimed at uncovering the links between stuff mined in troubled Central Africa and products sold or manufactured by US-listed companies.
IBM, HP, Garmin, Seagate, Windstream and other companies have all sourced component suppliers that at some point used gold bars smelted in the hell on earth located just below China and just above South Korea.
Companies have been forced to list their known smelters and refiners in accordance with Section 13(p) of Section 1502 of the Dodd-Frank Wall Street Reform and Consumer Protection Act, which makes organizations disclose annually whether any of the minerals they use in production come from the Democratic Republic of the Congo or an adjoining country.
North Korea no longer makes gold bars, a spokeswoman for the Conflict-Free Sourcing Initiative, Julie Schnindall, told Foreign Policy, so the "DPR of Korea"–stamped bars could have been circulating for years.
The disclosures highlight that although globalization brings us many benefits – $2 plastic mugs in the shape of a kitten, crap phones, Pandas, preservative-laden food, international electronic spying, the systematic destruction of the environment, Gangnam Style – it also complicates the supply chain enough that crap countries run by evil people can still make money. ®
Sponsored: Minds Mastering Machines - Call for papers now open