Reg reader champions robotic reuse
Telemba team looks to give Roombas new life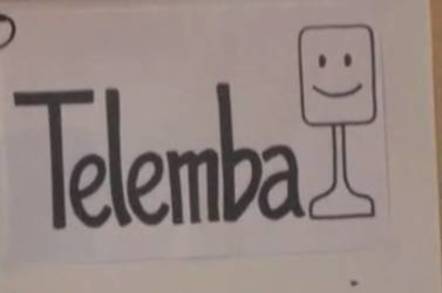 Register reader Hajime Saito and a group of robotics experts known as "frtp" are looking to put a little fun back into robotics with a project called Telemba.
I stumbled across their Kickstarter while researching telepresence robots and was intrigued by the idea of using a Roomba and an Android tablet to solve the problem. You supply the Roomba and the tablet, the Telemba team supply the rest.
Given that I have both a spare Roomba and a stack of spare Android tablets, the Telemba project seemed to solve my problem. If the project gets enough funding then $170 will get dinged from my credit card and sometime in October a neat little stand for my Roomba with an integrated computer that connects tablet to Roomba will appear in the post.
Connect A to B via C: This seems too good to be true, especially for that price, so I pinged the folks behind the project to see what was up. I was pleasantly surprised to find Saito – a self-described "avid fan of The Register – had only the most honourable of plans for the project should it get funded.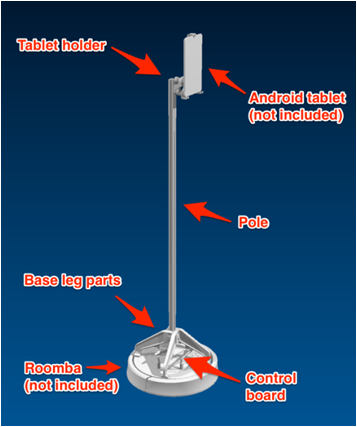 Telemba's idea for a telepresence robot
While we may all mourn the lost opportunity for Tokyo-destroying death Roombas, Saito hopes that successful funding of the Telemba project would "become a makers cooperative that brings people together to create things that are robotic and fun."
Saito hopes that the creation of a self-funding robotic hackerspace would help students as well, ensuring "they get to experience the gritty details" of robotics as well.
The team behind Telemba all work at other, larger robotic companies, but according to Saito "sometimes the fun factor gets diluted." Having a Telemba-fueled robotic maker's cooperative would offer a place for Japanese robo-boffins to remember the joy that attracted them to the career in the first place.
In time, Saito hopes that the collective "would become a bit more, and have retired engineers come along to teach the kids their tricks."
The Telemba team was inspired to give the project a try thanks to some of the crazy antics of Ron Tajima. He has a YouTube channel full of interesting ways to co-opt a Roomba. If I had any doubts of the ability to turn a Roomba into a telepresence robot, that YouTube channel dispelled them; apparently Roombas can do anything.
The Telemba team is keenly focused on price. The goal is to keep the project simple and the price low. They expect the end users of Telemba to have a basic minimum technical competency, but certainly nothing that Register readers would be unable to handle.
The do-it-yourself, hackerspace attitude of Telemba is a very important part of the project. Telemba – and the hoped for robotic maker's cooperative – reminds Saito of a time when Japan was trying to get back on its feet and find its place in the world.
Today, says Saito, "a lot of companies trying to enter robotics for people, we hear that everything has to be perfect. Something new is not going to be perfect the first time round; people will have to provide a little ingenuity of their own."
With everyone else demanding perfection, the Telemba team hopes that "good enough" leaves room to get end-users involved in their Telembas and may help spread the hackerspace spirit – and the fun – around the world.
Prototypes and hacked-together robots do come with risks. The Telemba team was showing off an early prototype to Rethink Robotics and iRobot founder Rodney Brooks when it toppled over an embarrassing moment, but one that only helped to encourage the team to redouble their efforts.
While Saito has served as the spokesperson for the project and was kind enough to fill me in on the the Telemba team's history and goals, he wanted to make sure I pointed out that most of the heavy lifting had been done by others. Those others are Professor Kei Okada from Tokyo University, Dr. Ryosuke Tajima, Mr. Yamamoto, Mr. Wake and Mr. Noda.
The Telemba kickstarter is here. At the time of writing the project has 40 backers, including yours truly, and needs $26,711 (or about 157 people funding it at the full rate of $170) to get born. ®
Sponsored: Minds Mastering Machines - Call for papers now open