The fresh Mint of dwell there: This is a story all about how 17 is here for a while
Clinging to Ubuntu 14.04 LTS... Cinnamon and her MATE
Hidden features
The new Hi-DPI monitor support worked as advertised in a virtual machine on my MacBook and puts Mint on par with GNOME Shell when it comes to supporting high-res monitors.
There are a couple of not-so-obvious new changes to the window manager that deserve mention. These include the option to control what happens when the mouse scroll wheel moves on a window title bar. You can either have it shade and unshade the window or fade the opacity. Both make for a great fast way to see what's under your window without actually changing apps or using alt-tab.
Cinnamon 2.2 is undoubtedly the flashier and more sophisticated of Mint's two desktop options, but its sibling MATE is definitely worth a look if you miss the days of GNOME 2. MATE began life as an attempt to keep the GNOME 2 style desktop alive and it continues to look the part.
Mint 17's MATE edition ships with MATE 1.8, which offers a number of small improvements and is a bit more lightweight than previous releases, making it a good choice for older, less powerful machines.
Among the new things in Mint 17's MATE 1.8 are options for side-by-side window tiling, an improved image viewer with a new shuffle feature and a quite a few bug fixes for the MintMenu.
There are also some improvements that apply to both desktops, like the changes to the Update Manager. The Update Manager has a bit more information to offer in this release, with some new icons indicating which updates are security related and which are just package updates. It's useful if for some reason you're bandwidth constrained and just want to get the latest security updates.
The Update Manager also now tracks all updates, whether they were done through the app, apt-get, aptitude or even directly with gdebi or dpkg. Previously the update history features would only show updates performed by Update Manager.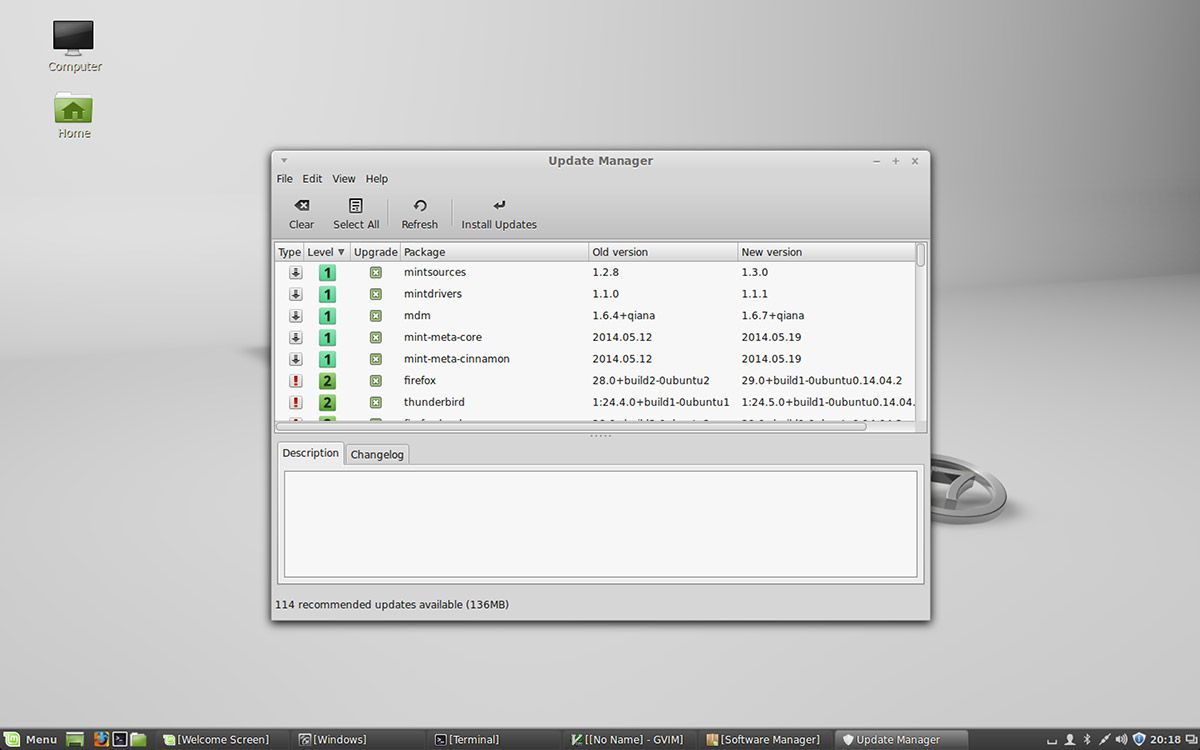 An Update Manager that really does what it says on the tin (click to enlarge)
Under the hood most of what's new in Mint 17 mirrors what you'll find in Ubuntu 14.04. And both versions of Mint 17 ship with the latest releases of all the common GNOME apps like Firefox, OpenOffice, GIMP, Thunderbird, Banshee, Pidgin and others.
Mint 17 isn't trying to change the Linux desktop or run on a phone near you. Instead, this release offers a rock solid, reliable and familiar desktop Linux experience. If you want something that just works and doesn't ask you to rewire your brain, both flavours of Mint 17 make great desktops.
That said, it will be interesting to see how the move to stay with 14.04 for two years sits with users. That may mean some apps fall a bit behind – though the Mint team does plan to offer backports for some applications. If that's not to your liking there's always the semi-rolling release version, Mint Linux Debian Edition, which relies on periodic snapshots of Debian as its base.
If things do pan out the way the Mint team is hoping, the move to stick with the 14.04 base will mean Mint can do more to improve what makes it unique – namely, Cinnamon and MATE. ®
Sponsored: Minds Mastering Machines - Call for papers now open